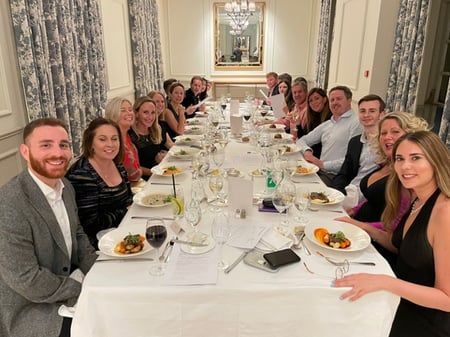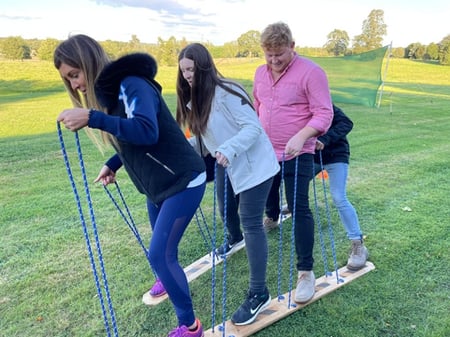 Last Friday we set off for the glorious Four Seasons Hotel in Hampshire for our annual staff retreat. It was a fantastic celebration of life after lockdown and of all we've achieved in the past year.

Our CEO, Kim Simmonds, and our coach, Louise Otton had planned an itinerary that included a Krypton Maze (yes, a lot like Crystal Maze) and a Murder Mystery Dinner. So it certainly wasn't all work and a TON of fun was had by all.
What goes on Retreat, stays on Retreat…but here's what we're allowed to share…
6 reasons to celebrate
1. Growth and excellence
Law 365 has grown! A year ago we had 7 members of Team Law 365 and now there are 22! While the pandemic loomed large on everyone's minds and in the news, we've overcome the challenges it posed (working from home, remote schooling and childcare etc.) and quietly brought on 40 new clients, grown our Employment practice, introduced performance coaching for our clients and moved into new offices.
2. Client Net Promoter Score of 86 = World Class
If you're not familiar with NPS, you first need to know that the range of ranking goes from -100 to +100….Many good businesses get a negative score and a ranking above 80 is considered world class.
We know our clients are delighted with our service because they tell us, just read our client testimonials to find out! But Kim watches these numbers like a hawk to make sure that our client service remains consistently exceptional. Happy clients are our passion.
3. Employee Net Promoter score of 88 = World Class
This score of 88 tells Kim that her employees are happy. They all contribute to make this a great place to work. The team does an incredible job supporting each other and sharing workloads.
Last year the employees set three collective goals for themselves – to think innovatively, to feel energised and to be proactive. They smashed it!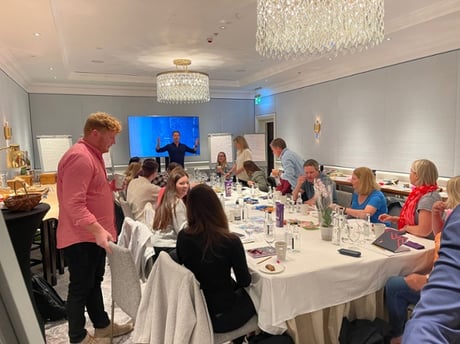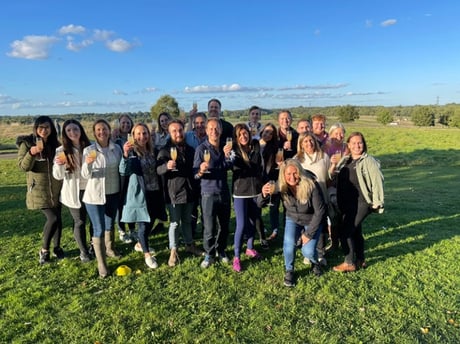 Left: #Teamworkmakesthedreamwork Right: Cheers! some bubbles in the sunshine
4. Partner Promotions
One of the most exciting announcements was that we have two new Partners:
Julie Alchin – who has been at Law 365 since the beginning, helping to grow the business from 10 clients to over 50, and setting the highest standards for client service.
Megan O'Hara – who has grown the Employment practice from scratch, establishing it as a core part of our offering to clients.
5. 2021 Awards and Accreditations
This year Kim and Law 365 have won or been shortlisted for 14 awards and received 3 nationally recognised accreditations:
We are Finalists, shortlisted for the following (winners will be announced in November)
Lockdown Leader (Finalist), The National Business Women's Awards
Business Woman of the Year (Finalist), The National Business Women's Award
We are Winners
10 Most Empowering Women in Business, Insights Success
Best IT Law Firm of the Year - South East England, Lawyer International – Legal 100 – 2021 – Awards.
Best IT Law Firm of the Year - South East England, Global 100 2021
Best Technology-Focused Legal Services Provider, 2021 Corporate Excellence Awards / Corporate Vision Magazine
CEO and Founder of the Year - Kim Simmonds, Global 100 - 2021
Innovator of the Year 2021, SME News 2021
IT Law category winner, CEO Today Magazine
Specialist Legal Service of the Year, London Prestige Awards for 2021/22
Women in Law 2021, Lawyer Monthly
Gamechanger of the Year - Kim Simmonds, GameChangers™ Magazine
Legal Firm for Microsoft Partners Takes 2021's Best spot In Tech, 2021 Global Business Insight Awards
Accreditations
6. Launch of MicroBites, the Law 365 newsletter
Our growing team of lawyers LOVE to write blogs and thought leadership, plus this year we conducted a huge research project, interviewing over 50 Microsoft Partners. Our latest achievement is launching a monthly newsletter so you won't miss any of the fabulous content that our lawyers are producing. Sign up now!
There's so much more to share, but we'll let you in on our plans for the future in the coming weeks....
Further reading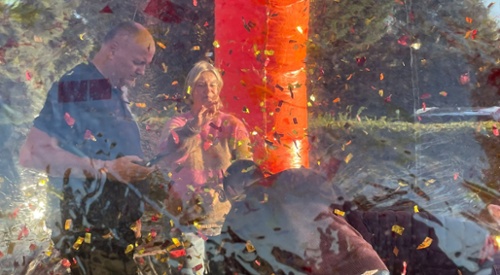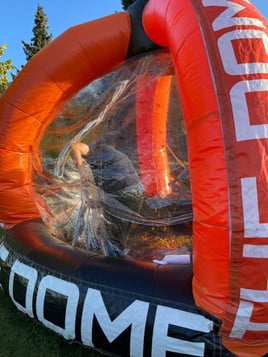 Juliet Nutland, Senior Associate, tries her hand at grabbing the golden tickets...