Vashi's first impressions of Law 365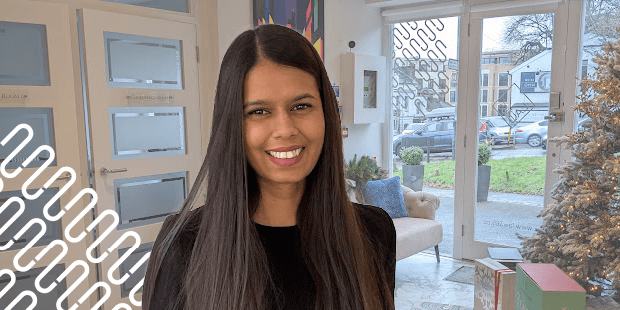 Vashi started at Law 365 in November and we were keen to know what attracted her to Law 365, and how she's finding work so far. Here are her first impressions about 3 weeks after joining the team.
What is your legal background?
Before starting my training contract at a private practice and qualifying, I worked as commercial/corporate paralegal.
How did you hear about Law 365?
Around a month before my qualification date, I was contacted by a recruiter explaining that she had a very exciting NQ commercial role (specialising in tech/IT, particularly Microsoft Partners) at Law 365. I was intrigued, so I did some research.
It was obvious from my research that Law 365 was very different to your traditional law firm-- from the subscription billing structure to the focus on the wellbeing of staff members. This modern business model was refreshing for me to see (as a soon-to-be NQ solicitor), so I called the recruiter back the same day to send my CV over.
What was the interview process like?
I was really pleased when the recruiter called the next day to say that Kim Simmonds (CEO and Founder) wanted to go ahead with an interview.

The interview was held online (COVID- need I say more?) on Microsoft Teams (obviously!) As with any interview that you really care about, I was understandably nervous. However, as soon as Kim and I started speaking, she put me instantly at ease. We had a general conversation about my CV, including my previous experience and general interests (holidays, dogs etc…the important things!). We asked each other questions throughout.
The interview did not feel like the usual 'formal' legal position interview. It was more about getting to know if I would be a good fit for Law 365 and if Law 365 would be a good fit for me. Given that I am now writing this, I think it's safe to say that the interview went well.
What attracted you to Law 365?
Honestly, a lot! I found the subscription billing structure to be very forward thinking. It is also, in my opinion, a far more ethical way to bill a client as opposed to the traditional 6-minute units. There are no 'hidden costs' for the client. The billing structure is also fairer to the client in the sense it allows us, as lawyers, to dedicate the time and resources to a contract which we otherwise might not if we felt pressure to 'bill by the minute'.

I liked the hybrid private practice and in-house model because we get the benefits of both worlds – we still get the exposure to a wide variety of clients, but we work as a team, much like in-house lawyers do.
Kim also places a huge emphasis on the wellbeing and happiness of her staff members. This is her top KPI and is very evident on the website — both in the blog content and the number of awards she has won. The fact that this is a priority for her also came across in the interview where she made it clear that she wanted Law 365 to be a place where I could learn and grow. Now that I have started at Law 365, I can confirm that this is very much put in practice all the time. Kim always checks in with everyone so see how we are coping and if anyone needs any help or has too much to do etc.

During my first week, I attended a yoga session during lunch one day and a sound bath session on another day, so Kim really does means it when she says that her staff wellness is a top priority for her. We have standing desks. There are personal training sessions available (I have not been back to the gym since pre COVID, so I've yet to pluck up the courage to attend one of these).
What does a typical day look like for you?
This is my third week at Law 365, currently I am doing a lot of first drafts/reviews (from Non-Disclosure Agreements to Master Services Agreements) as this is a new area of law to me. Once drafted, one of the seniors will review the documents and I will make further amends if required.
I am learning something new every day and it is so helpful to have such a supportive team. As an Associate, I am on hand to help any member of the team.
Working as a team, as opposed to having lawyers having their own caseload, is also very new to me.
In the traditional private practice, it is almost frowned upon for lawyers to ask for help on their matters when they have too much to do. The insinuation is that the lawyer cannot handle their own workload. However, this mindset is almost always to the detriment of the client. At Law 365, we are all on hand to help other team members (from an associate all the way to a senior) to ensure that work is not rushed but produced in time, so that client receive the best care and service possible.

I am also involved with one our internal software development projects, which is very exciting as I have never done anything like this before.
Flexible working at Law 365
Kim offers flexible working, and I am in the office 2 days a week which works well for me. Flexible working is something Law 365 practiced pre-COVID, which shows the progressiveness of the firm. Most law firms strongly resisted this approach pre-COVID, but post-COVID most law firms now offer flexible working. The pandemic (albeit by force) made many sectors understand that this approach clearly works. Once again, Law 365 was ahead of the game and thinking about the best way rather than the accepted way to do things.
What is it like working in a specialist area as a newly qualified solicitor?
I am new to the tech legal world but I do have some commercial background, so the work is not entirely alien to me. Yes, tech is a specialist area but the work is similar to 'general' commercial work on some level, so the skills acquired are transferable either way.
A
dditionally, the tech industry (the future!) is one of the fastest growing sectors (pre-and post-COVID) and provides a diverse group of clients. We are constantly signing new clients, which is amazing as this results in a very varied workload for those of us who are still learning.
Are you excited about your future at Law 365?
Absolutely! I love the work we do (and how we go about doing it) and cannot wait to keep growing and learning here.