How long have you been working at Law 365?
I started at the beginning of November 2021, so I have been here for a month. I was on a quite a long notice period at my previous company, so it felt like it took forever for me to actually join. It was worth the wait!
What is your background?
I have a background in accountancy practice. The training is quite similar to the lawyers here at Law 365, but with financial rather than professional services focus. The world of accountancy has the same traditional approach as most law firms. I had a number of clients that I provided accountancy services to and had to record every 6 minutes of my time so it was often very pressured. We don't have time recording at Law 365. It's been a lovely culture shift joining a company that is trying to take a modern look at 'professional services'.
What's it like being new at Law 365?
I have been made to feel so welcome by all of my new colleagues. We are a small team and it's easy to learn who everyone is. I was invited to a few of the work events before I even started which meant I wasn't nervous on my first day because I had met the majority of people before.

My first day was spent with Kim (CEO) and a few others getting to grips with the amazing provision of IT. I was set up to work remotely from the get-go.

A lot of my fellow colleagues reached out individually to give me insights into 'how things are done' but we also use all the great communication tools provided by Microsoft Teams, whether that's for an informal 'tea break' meeting (which we have daily) or more formally, e.g. for group coaching.
What have your first few weeks been like?
My role as Finance Manager was completely new and hadn't been done by anyone before so I have the autonomy to start from scratch to get systems and processes set up and to shape my job, which has been amazing. I have spent the first few weeks making lists of things I need to achieve, and I am starting to get them done.

Currently we work from the office 2 days a week and the rest from home. This is a great balance and I've been able to structure my tasks to fit where I am on any given day.
What attracted you to work at Law 365?
Working in industry in a SME is something I have always wanted to do because I love the idea of working my own way and being exposed to all areas of the business, not just the finance function. I also had the requisite skills for the advertised job.

Another big draw for me was the fact that I wasn't stepping into anyone's shoes and could really make an impact to a growing company. I was excited by the direction the business is going (having discussed this in my interview). However, the biggest pull was the culture and values of Law 365. At interview, I really bought into Kim's vision of being a modern law firm and knew she really cared about her staff.

I also looked on Twitter and found some articles that helped let me know what the office and team were like. I found them so helpful that one of the first things I did when I started was to offer to write this blog! Some of my favourite blogs are listed below.
What are the things you're enjoying the most at Law 365?
One of the best bits about working at Law 365 is I can take my dog (Gus) to the office. He absolutely loves coming in and sleeping under (OK, sometimes on top of) my desk. There are some amazing walks on Tunbridge Wells Common so both of us get a lovely bit of exercise at lunch time.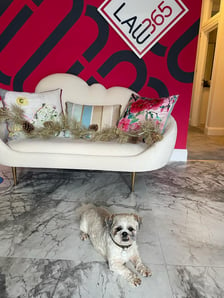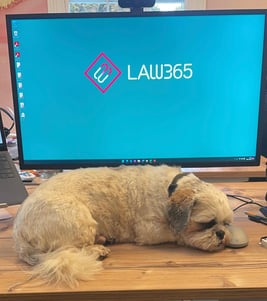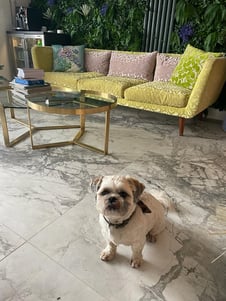 There is also so much going on here. Since I've been here, as well as whipping the finances into shape, I have been to several yoga sessions, a gong bath, attended a talk from a Movember Ambassador, Ben Bowers, on his experience with testicular cancer, joined the Law 365 Movember fundraising team, and attended our optional daily meditation sessions.

I have been able to put forward some ideas for things like our social media posts, our charity work and obviously things relating to my role. Ideas are always very welcome here. There is truly an entrepreneurial culture.
What are the challenges you're facing in your new role?
Law 365 grew from 4 employees this time last year to 26 currently, and we're still hiring. We aim to double in size again by the end of next year. This rapid growth is setting up challenges for all the areas of the business, including finance. There is a lot for me to do – setting up new procedures, gathering data for use in forecasting and budgeting, researching new processes and products, creating scalability. It's a busy time for all of us in the business but so far has been hugely rewarding and exciting for me.
How does Law 365 compare to other places you've worked?
This is the first 'boutique', owner-managed company I have worked at so it has a very different feel to a large corporate or a public sector workplace. It has taken some getting used to not having to record what I'm doing at all times and having the freedom to just get on with stuff.

Working in a small company is great -- I feel am listened to and I can make a difference. At this point in my life, it suits me being a big cog in a small wheel rather than the other way round.

Our offices are really beautiful and tastefully decorated. It's so enjoyable coming to work in such a carefully designed space. There's a ton of light and 'sound clouds' that soften the noise. We have desks that can rise so you can work standing up and great technology e.g. large screens, ear phones, cameras etc to work with.
What's next for you at Law 365?
I am so excited to make a difference to the business by providing meaningful financial information to Kim and the rest of the team. I am setting up lots of new financial systems and processes and really putting my stamp on the role.

Our group and individual coaching sessions with our in-house coach are invaluable (check out our 'Performance and Wellbeing' section on the Law 365 website) and I plan to make good use of these to set myself some targets.

I'm excited to get involved in some of our philanthropic endeavours and to really be immersed as a valuable employee at Law 365.
Interested in working at Law 365?
View our careers!
Further reading