Kim wins Silver in two categories in National Business Women's Awards
By Victoria Douglass, November 23, 2021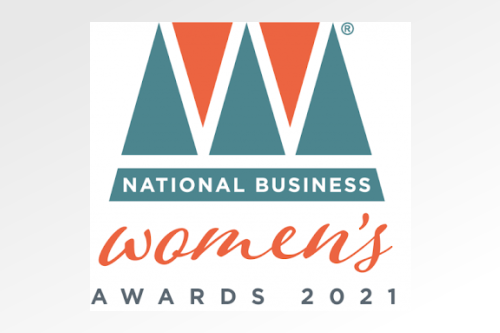 The National Business Women's Awards recognise 21 categories of success for businesses across the UK.
All entries are judged by a national panel of judges. This year Law 365's CEO and Founder, Kim Simmonds, won Silver in the following two categories!
"Business Woman of the Year"
This category pays tribute to the innovators and visionaries. The women who've made significant contributions to their profession and have demonstrated entrepreneurial drive and leadership.

Kim won this award for her vision of a better legal future for both her clients and her staff. Her subscription services allow Microsoft Partners to plan for their legal needs. She has broken down the barriers that have prevented them accessing legal advice.
Kim's legal team are great business advisors too. She's harnessed these skills in her team and shares their knowledge and insights in Law 365's thought leadership.
"Lockdown Leader of the Year"
This category recognises that, "being a leader of people and an organisation is a difficult task at any time but steering a ship through a COVID storm requires someone to take charge, make decisions and provide clear direction."

Kim has won this award for her ability to keep Team Law 365 motivated and connected during lockdown. She offered workshops to staff to help them to be more resilient through the lockdown, especially when kids were out of school and juggling work and life challenges sometimes seemed impossible.
She also brought fun when the situation in the world seemed so bleak, creating joy for the team and keeping the team happy and positive. She continues to inspire and share her passion and optimism.

Law 365 has quadrupled in size during this pandemic year -- signing on over 45 new clients and hiring more than 16 new members of the team since April 2020.

We're all extremely proud of Kim's achievements.

This year winners were announced at the Grand Awards Celebration at Wembley on 19 November 2021.
2021 Awards and Accreditations
This year Kim and Law 365 have won or been shortlisted for 14 awards and received 3 nationally recognised accreditations:
We are Finalists, shortlisted for the following (winners will be announced in November)
Business Woman of the Year (Finalist), The National Business Women's Award
We are WINNERS!
Lockdown Leader

(Finalist), The National Business Women's Awards
10 Most Empowering Women in Business, Insights Success
Best IT Law Firm of the Year - South East England, Lawyer International – Legal 100 – 2021 – Awards
Best IT Law Firm of the Year - South East England, Global 100 2021
Best Technology-Focused Legal Services Provider, 2021 Corporate Excellence Awards / Corporate Vision Magazine
CEO and Founder of the Year - Kim Simmonds, Global 100 - 2021
Innovator of the Year 2021, SME News 2021
IT Law category winner, CEO Today Magazine
Specialist Legal Service of the Year, London Prestige Awards for 2021/22
Women in Law 2021, Lawyer Monthly
Gamechanger of the Year

- Kim Simmonds, GameChangers™ Magazine
Legal Firm for Microsoft Partners Takes 2021's Best spot In Tech, 2021 Global Business Insight Awards
Accreditations