Law 365 are proud to be a certified Great Place to Work two years in a row (2021 & 2022!) and we are celebrating our success.

We scored an amazing 99% on the Trust Index and 100% of employees rate us as a Great Place to Work.
To put this into context the threshold for the UK Small Best Workplaces Recognition on the Trust Index is 85%, putting us at the top of our game!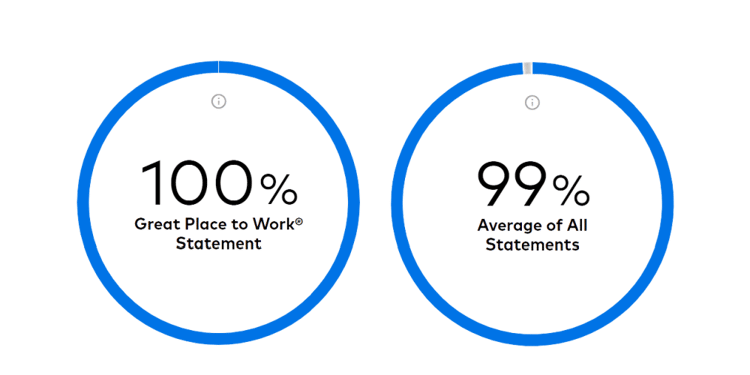 "My mission and purpose are to build a team and culture which makes a profound difference to people's lives. The business was born out of the desire to fix a broken legal system and provide a working environment where people feel valued, respected, and listened to. We are honoured to be Great Place to Work-Certified!  Looking after my staff's wellbeing is my top KPI and this is a great recognition of all the effort that we collectively put into Law 365 every day to create a resilient organisation where people love coming to work. If my staff are happy and performing their best, I know my clients will be delighted with our service."
Kim Simmonds
CEO and Founder, Law 365

What is Great Place to Work?
Great Place to Work's mission is to 'build a better world by helping organisations become great places to work for all'.
Each workplace is judged on the following criteria: Trust, values, leadership effectiveness, financial growth, and innovation by all. Receiving the Great Place to Work Certification recognises the efforts that Kim and the team have put into the company, which has grown by 300% in the last year.

Let us celebrate our incredible results.
We have smashed the scores! Let us look at how we compare to other best small companies.
We have scored over the benchmark in nearly all categories which is an amazing testament to the initiatives that Kim has put in place and in the behaviours and actions that we see the team put into practice every day. It is easy to talk about how to create a great workplace culture but actually doing it is the hard part. We do not pay lip services to this; we really do live and breathe all that we say every day.

Here are some of the highlights from the survey.
100% of employees regard Law 365 as a great place to work.
We scored 100% in 11 out of 27 areas and 99% in 7 out of 27 areas. 99% of employees are currently experiencing a high trust work environment (Trust Index = Average of GPTW Model)
The overall Trust Index result is 34% above the Great Place to Work certification threshold (65%)
14% above the UK Best Small Workplace threshold (85%).

With scores like these we are proud to share them!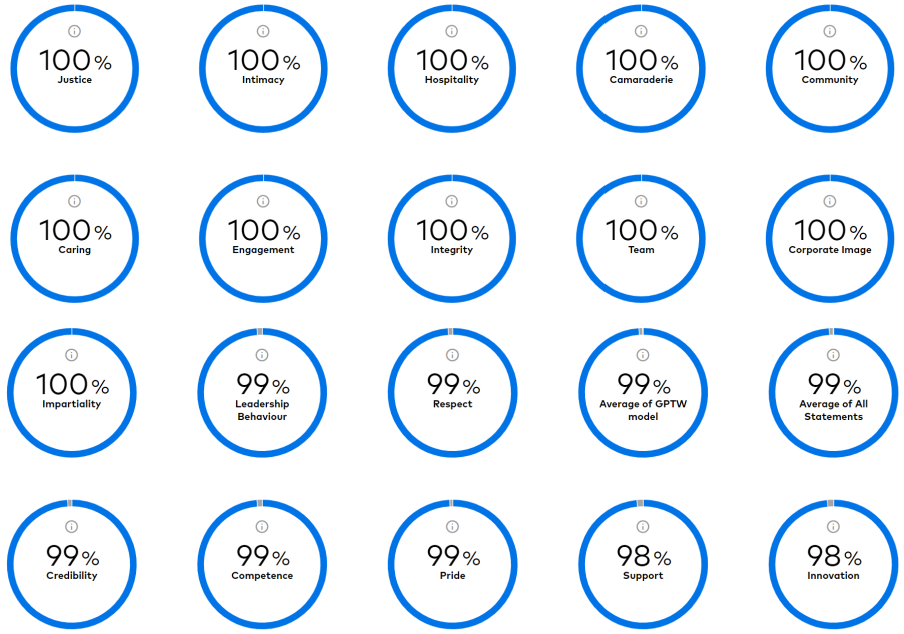 What are our key strengths?
We are a friendly welcoming firm! New joiners are made to feel like part of the team from the word go as we invite them to all our social events online or in person, even before they join.
We offer unique benefits which make a difference to the experience people have at work.
The culture at Law 365 is one where people feel psychologically safe to work and feel truly valued and trusted.
We are a close knit team and Kim has created a true family feel where everyone cares about each other. All staff are encouraged to support and challenge each other to get the best out of the team.

What are our areas for growth and development?
It is fantastic to have received such incredible results and, as we grow, we are focused on ensuring that we continue to maintain the culture that we have created. When results are so high it is valuable to look at what small amendments can be made to keep striving to create a great workplace.

We have identified three key areas as opportunities for growth and development.
To continue to engage our people, ask them what is working and what is not working and to continually strive to make the necessary tweaks and adjustments to keep Law 365 as a great place to work!
To maintain the culture of inclusivity, openness and trust. We encourage each other to share honest feedback, show vulnerabilities when needed, and to check in on one another.
To invest in more development and training opportunities for the team to ensure they are getting the most out of their role with Law 365.
Click below for more details on why Law 365 is a GPTW:
Law 365 Limited Great Place to Work UK | Organisational Consultancy & Employer Recognition
What do our people say?
"There is complete transparency. Everything is discussed and everyone has a voice. Mistakes are openly discussed with no blame or recrimination. They are also very keen to make sure people have good work/life balance".

"There's a huge focus on staff wellness - I feel so genuinely cared for and taken care of that it encourages me to do a great job for the team and our clients."

"The strong focus on professional development at all junior-senior levels and unique wellbeing offering. This coupled with a warm and welcoming team make this by far the most unique company I have worked for."

What has contributed towards this success?

Strong client relationships are so important to the business and, while excellent client service is a priority, this is not to the detriment of personal wellbeing. Kim truly feels that by showing she respects work / life balance she will attract the right people from all ages, stages and walks of life, because quite honestly, who would not want that balance? 

Law 365 operates in a way that really should not be ground-breaking, but is. Employees are encouraged to take care of themselves as well as their clients. We have an executive performance coach who works individually with each member of staff for 2 hours a month (and every other week with us as a team.)  

First to shake off any preconceived notions that might be limiting their success, and then to develop the skills and mindset that will help them reach their goals. 

Kim has achieved this by managing client expectations, which includes acknowledging that employees have a life outside work and do not have to be available 24/7. 

 What else helps to make us a great place to work
Everyone is offered 1:1 coaching, and team coaching focused on developing strong resilient behaviours, enabling us to take control of our physical and mental wellbeing.  
As a Mental Health First Aider, our coach also gives the team a safe space to discuss any concerns about their own or someone's mental wellbeing.  
 We give everyone a set IT home office equipment to ensure they have a comfortable home set up, and we encourage flexible working.  
Connection is key, so we set up a variety of team check-ins, from morning 'tea breaks', daily mediations, to fun social nights and an annual company retreat. 
We have a buddy system, creating a mentoring culture amongst the team.  
We celebrate successes and mistakes, always learning and improving.  
A suite of holistic wellbeing activities ranging from virtual nutrition workshops, menopause workshops, gong baths, PT, yoga, mindful walks to wine tasting, pasta making, and cocktail workshops are on offer.  
All birthdays and milestones are celebrated!  
Learn more about how we're building a better workplace
Do you have a legal question for us?
Whether you are just getting started, need a template package or looking for legal help as an annual subscription, we are here to help with any questions you may have.
Our mission is to help you succeed, with less risk.