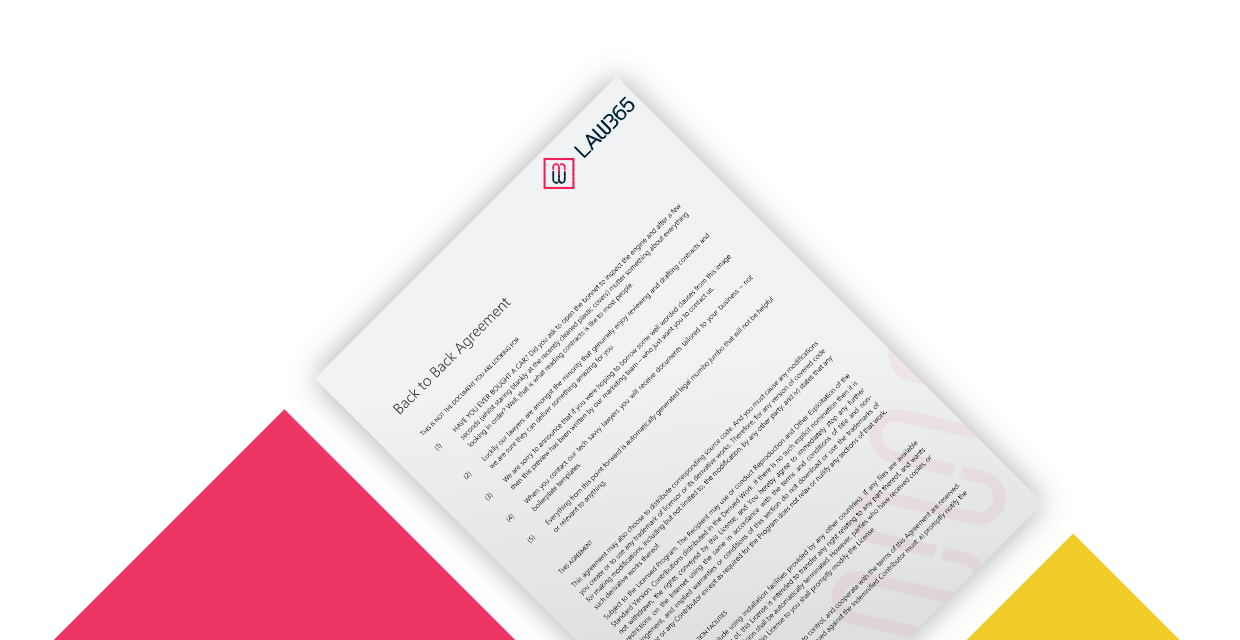 Why do you need a
?
You're in the middle of a project with your customer, but you've landed another contract, and you need a helping hand.
The best solution it to bring in a subcontractor to help lighten the load... but you don't want to be liable for any mistakes the subcontractor makes... right? You need a Back to Back agreement to define responsibilities and liabilities.
What is a
?
A Back to Back Agreement allows you to flow down terms from your main contract to your subcontractor. You can clearly outline in the agreement who is responsible for what, and whether you are discharging all of your duties, or just specific jobs.
Frequently Asked Questions
A: If a mistakes or delays occur due to the subcontractor, action and claims will be brought against the main contractor. How does the main contractor protect themselves?
By stipulating in the agreement that, should a claim arise out of a breach by the subcontractor, they shall have to reimburse the main contractor. We call this payment an indemnity, and it is one of the key points of the Back to Back Agreement.
A: "Full" Back to Back is where the main contractor shifts the entirety of their obligations and liabilities for the main contract onto the subcontractor. "Partial" Back to Back is when the main contractor only passes on some of their obligations to the subcontractor. Our agreement allows for both options.
This is a "Forever Template"
We will continually update this template with the frequent Microsoft updates such as CSP and other flow down terms, plus we will update the relevant terms to ensure you can claim as many rebates as possible, and get recognised by Microsoft such as CPoR, (Claims Partner of Record) DPoR (Digital Partner of Record), and PAL (Partner Admin Link).
We will also continually update this template as the law changes, for example, GDPR (General Data Protection Regulation) and the effects of Brexit on our laws, as we untangle ourselves from the European Union.
Used by
Managed Services Providers
ISV, Software, Apps and IP
System Integrators Professional Services Consultancy Partners
Hosting Partners
Licensing Partners
Contact us
Other documents we can help you with...