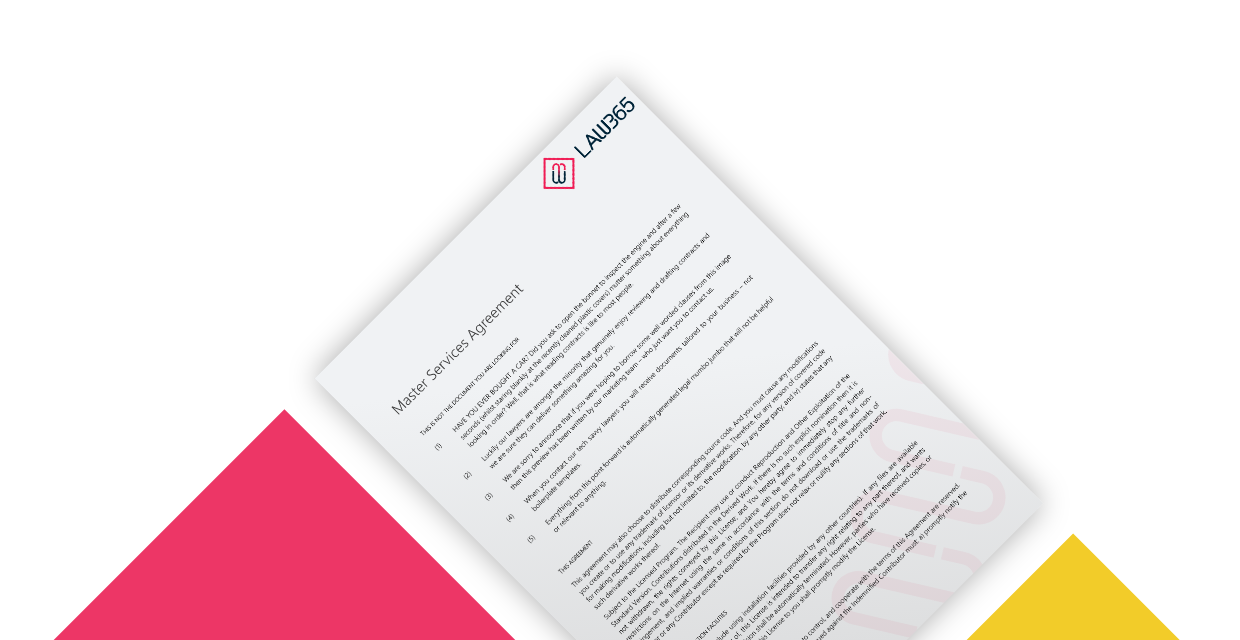 Why do you need a
?
At Law 365 we like to see long-lasting ventures between businesses. If you intend to collaborate on several projects with a client, it makes sense (and will save hours of time) to build a Master Services Agreement (MSA).
This agreement will outline all your framework terms for future projects with the client, simplify and speed up contractual negotiations, and give you back valuable time to do what you do best.
What is a
?
The Master Services Agreement (MSA) aka a simple framework services agreement, is the skeleton that supports the body of your relationship with your client. The body of work is outlined in the separate Statements of Work (SOW) for each service you provide.
Frequently Asked Questions
A: If you are a services provider who hopes to work with your clients on a variety of projects, then you should consider building a Master Services Agreement. An MSA can be used to cover a variety of services from Professional to Managed. Once negotiations are finished on the MSA it can be used again and again, and you need only change the Statement of Work for each new project. A well-drafted MSA can speed up your negotiations and be used in all your business relationships.
A: The Master Services Agreement is drafted for the modern world. It is flexible and will allow any Statement of Work to take precedence over itself. How long it lasts depends on the needs of the parties. Should you be providing on-going services, the MSA will auto-renew annually. Should you only require it for a short project, then it will end when fees are paid and both parties are satisfied.
A: The MSA takes a while to draft and provides all the legal details related to liability, termination, risk management and obligations. Statements of Work are quick to negotiate and contain the commercial details of a project (fees, details of the project, timeline). A good, flexible MSA should have a clause stating that if a conflict arises between the documents the SOW will take precedence. this can save hours of having to redraft a 50-page MSA.
This is a "Forever Template"
We will continually update this template with the frequent Microsoft updates such as CSP and other flow down terms, plus we will update the relevant terms to ensure you can claim as many rebates as possible, and get recognised by Microsoft such as CPoR, (Claims Partner of Record) DPoR (Digital Partner of Record), and PAL (Partner Admin Link).
We will also continually update this template as the law changes, for example, GDPR (General Data Protection Regulation) and the effects of Brexit on our laws, as we untangle ourselves from the European Union.
Used by
Managed Services Providers
ISV, Software, Apps and IP
System Integrators Professional Services Consultancy Partners
Hosting Partners
Licensing Partners
Contact us