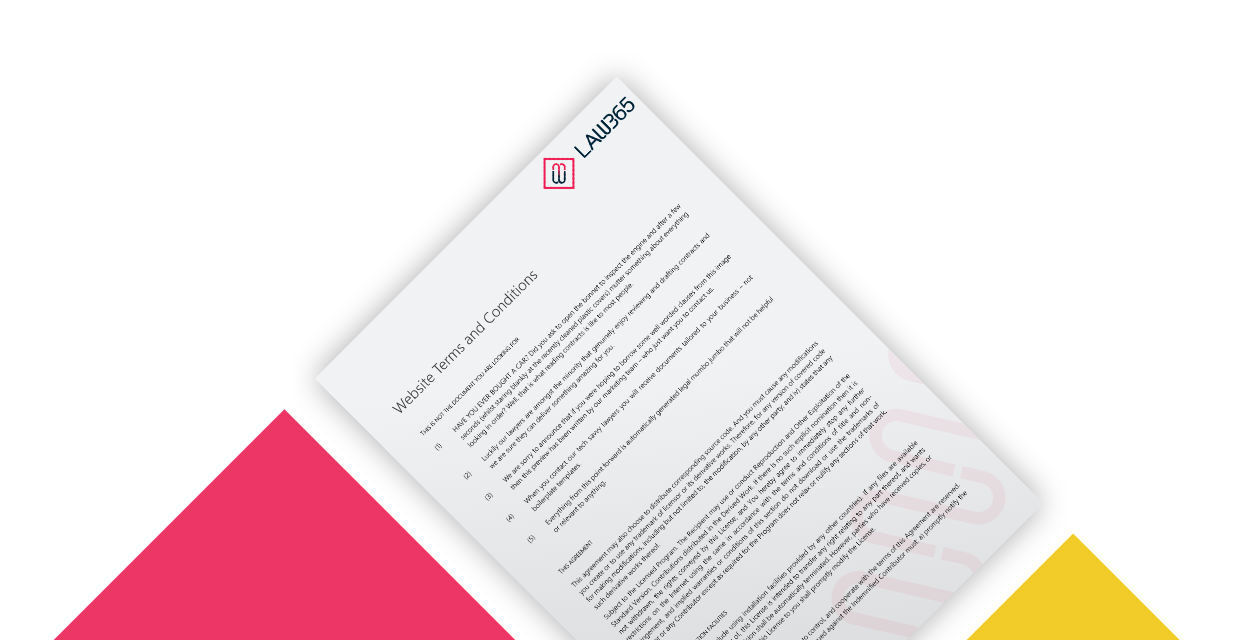 Why do you need a
?
The internet is amazing, but there are always parties looking to steal or take advantage of your work. If you have a website, you should protect it by laying out the Terms and Conditions for your website users.
What is a
?
The Terms and Conditions state your (and your users) obligations, rights and responsibilities when they use your website. You also have a cacophony of intellectual property (ideas, designs, content) in your website that needs to be protected.
Frequently Asked Questions
A: They can be… if they hit the right criteria to be accepted as a contract. This can be difficult to do. It's all about how you gain and prove acceptance from the user. Two options are Clickwrap (where the user must click 'Accept' before browsing) and Browsewrap (where a user accepts the Terms and Conditions simply by browsing).
A: In theory, there is nothing stopping you copying Terms and Conditions from another website, but it would be next to useless. A website Terms and Conditions should be specifically tailored to your needs.
A: Your website "content" means all the video, audio, pictures, design, blogs and information you have on your website.
This is a "Forever Template"
We will continually update this template with the frequent Microsoft updates such as CSP and other flow down terms, plus we will update the relevant terms to ensure you can claim as many rebates as possible, and get recognised by Microsoft such as CPoR, (Claims Partner of Record) DPoR (Digital Partner of Record), and PAL (Partner Admin Link).
We will also continually update this template as the law changes, for example, GDPR (General Data Protection Regulation) and the effects of Brexit on our laws, as we untangle ourselves from the European Union.
Used by
Managed Services Providers
Website designers
Content creators
Marketing Executives
ISV, Software, Apps and IP
System Integrators Professional Services Consultancy Partners
Hosting Partners
Licensing Partners
Contact us