This chapter covers the quantitative metrics and qualitative findings of our research, to give you insights into how other Microsoft Partners handle staff compensation, recruit successfully and grow the knowledge base of their employees.

Are you paying too much, or too little?
We will look at salary ranges by role, by recruitment and reasons for staff exiting Microsoft Partners, amongst other focus areas.
---
Compensation
Always a popular topic! We were able to discuss remuneration in detail with participants, exploring salaries at a business function level.
To provide some context we thought it would be useful to analyse revenue and EBITBA (Earnings Before Interest, Taxes, Depreciation, and Amortization) per employee first.
As the chart below shows, the average revenue per employee of the Microsoft Partners we spoke to was just over £120,000, with average EBITDA per employee at just over £17,500. This is positive, as a good benchmark for revenue per employee is more than £100k, with the large management consultancies reporting closer to £200k revenue per employee. Furthermore, according to Statista, US Professional Services firms averaged £116,500 (US $165,000) per employee in 2020.


Revenue & EBITDA Per Employee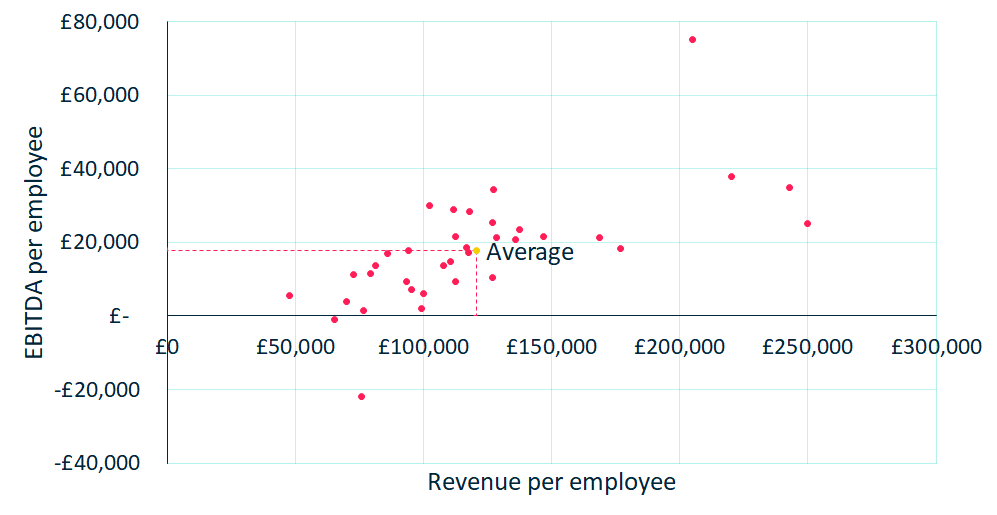 Average Salary by Business Function
Participants provided us with both a high and low salary range for each type of role within their business. From this we were able to determine the average salary at both the high and low ends of the spectrum, in addition to the overall average salary and the minimum/maximum salary by function across the whole survey.
Compensation – Sales Staff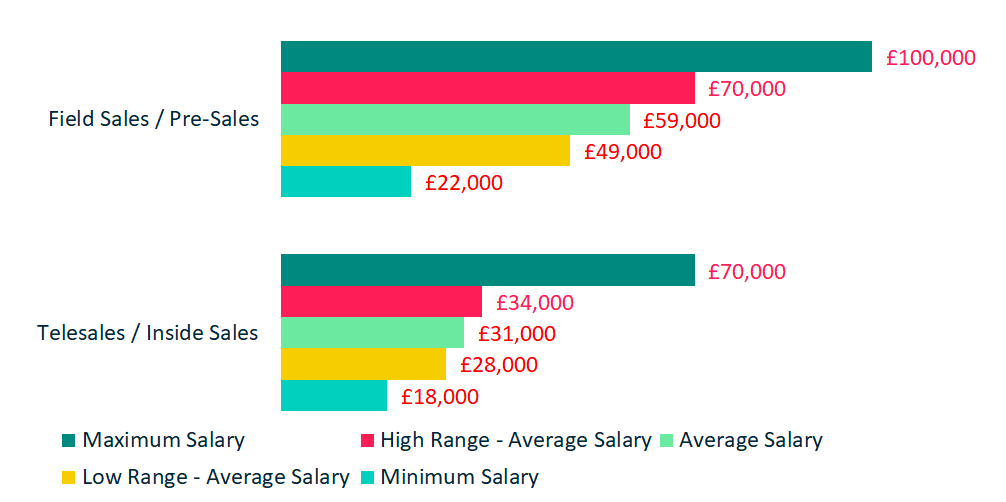 As can be seen from the chart above, the salary range for field or pre-sales staff ranges from £22,000 all the way to £100,000, and telesales/inside sales salaries range from £18,000 to £70,000.
The disparity is largely determined by experience and the target that the individual carries. For example, employees at the lower end of the pay scale are likely to have less experience and will also have a lower sales target. Senior staff on the other hand not only command higher salaries, but they also have more responsibility and a bigger sales target to hit.
The salary survey also covered detailed questions about percent of variable compensation, and this can be found in the seventh blog instalment in the Microsoft Partners Insights series, which focuses on Sales & Marketing.
Compensation – Marketing & Administrative Staff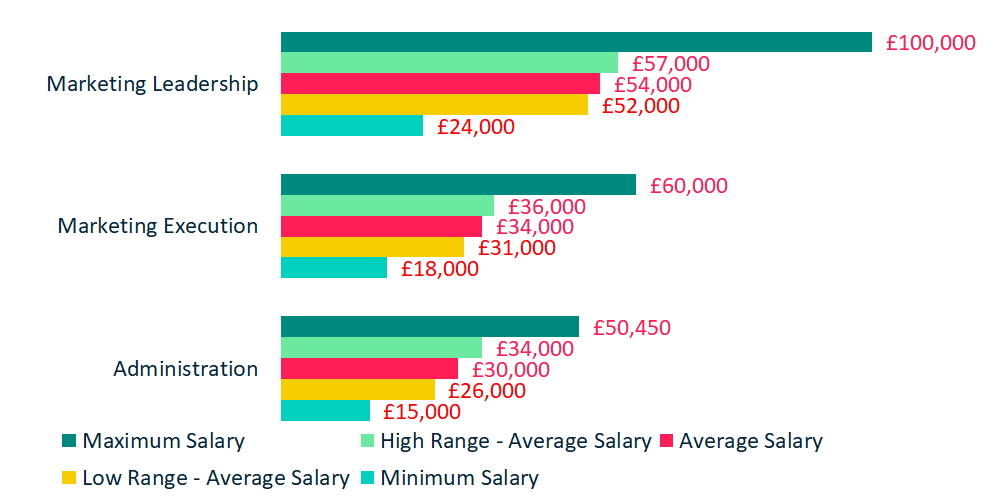 The marketing and administration salary ranges are quite closely aligned, without a great variation in all the average figures. For example, marketing leadership ranges from £52,000 at the average of the low band to £57,000 at the average of the high band. Only a small number of the larger Microsoft Partners were paying significantly higher salaries due to the larger teams that the individuals were managing and the added responsibility associated with the role.
This is also true for the marketing execution roles, with average high/low range only spanning from £31,000 to £36,000, indicating that that most Microsoft Partners are closely aligned on their compensation for marketing roles.
Compensation – Consultants & Engineers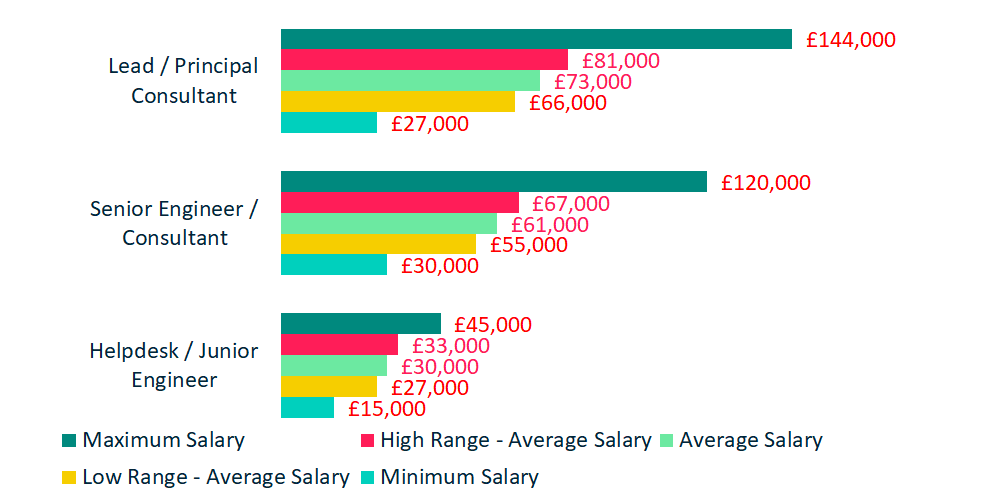 The compensation for billable staff again was similar across all the Microsoft Partners. The seniority of the staff made a significant difference as did the size of the teams they were managing for the Lead/Principal Consultant. The maximum salaries were paid by a couple of the larger partners and the staff were also generally Microsoft MVPs (Most Valuable Professional).
---
Recruitment - Feast or famine

2020 was a strange year in the context of recruitment for the Microsoft Partners. There was a stark contrast between a number of companies we spoke to - some had to periodically use the government furlough scheme, while others struggled to hire fast enough to meet the unprecedented demand for their products and services.
"Finding and retaining good talent is a concern. We had a couple of really good developers leave after a year to go work for a bank."
The 3 main hiring challenges


1. Candidates could dictate their terms
For those that saw their teams grow in the last year, the feedback highlighted a more competitive marketplace for talent. Many of the CEOs we spoke to felt that interviewees were able to dictate a larger portion of the terms than in previous years, such was the high demand for their skills.
"The really senior people we have been interviewing are mainly the ones who say they don't fancy an office-based role anymore, when in fact we would want them in the office."
"There is a pressure on salaries as the war for talent increases. We have a good team and risk losing them to competitors offering more money."

2. Hiring fast enough and getting the best person for the job
Many leaders were concerned that hiring at scale would be an ongoing issue, while others were more concerned that finding the right person was the bigger challenge in light of such a competitive hiring market for top talent.
"Our biggest challenge is finding good people."
"A lot of my concerns are around people, onboarding and recruiting talent."
3. Differentiation in a competitive market
A significant portion of the senior leaders we spoke to felt that offering employees total flexibility with regards to working from home/office, and flexible working hours was now the new normal. Prior to lockdown, flexible working had been a key differentiator for many Microsoft Partners.
One CEO highlighted that for companies who were already offering flexi-hours working prior to the COVID-19 pandemic, this had actually hindered them in attracting top talent as they no longer stood out from the crowd.

Leaders were potentially being forced to think outside the box in an effort to maintain an edge in their recruitment drive, with one leader stating they were considering switching to a four day working week as standard.
Many respondents were keen to highlight the positives though.
"We have also been able to recruit people further away from us. The barrier of geography has been removed."
"We've involved more people in recruitment, included cross-department involvement in recruitment. This has been really impactful.
Headhunters remain the top choice for recruiting
We can see from the chart below that the top three recruitment channels combined (recruiter, referral and LinkedIn) dominated the survey and accounted for 81% of the votes with headhunters/recruiters being the single most utilised option.


Top ways to recruit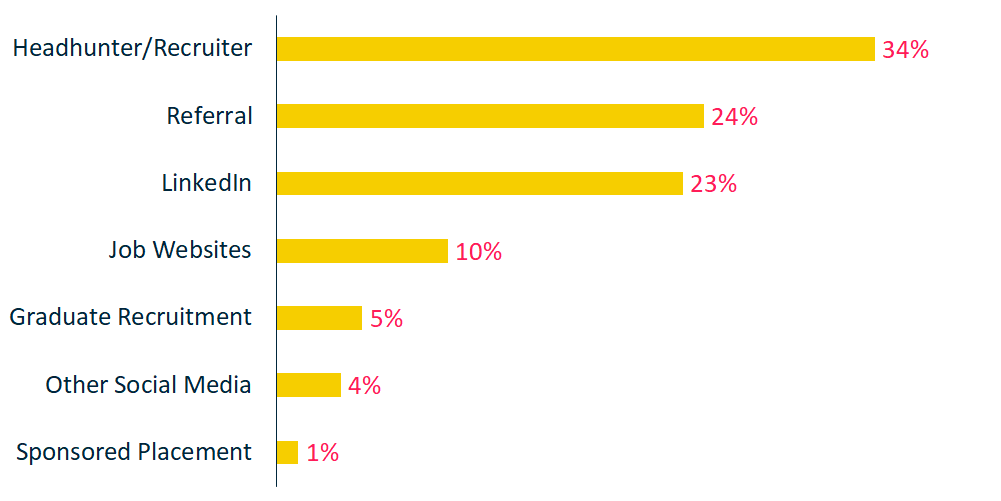 Staff retention
On a related topic, we also discussed the most common reasons for staff leaving their role.
It is possibly not a complete surprise that 'underperformance' had the highest score (34%), however a quarter of the votes were for 'life/career change' which is potentially a little more surprising and opens up the question; how much did the events of the last year focus people's minds on their future, their career, current work/life balance, and contribute towards the employee turnover rate for companies?


Employee reasons for leaving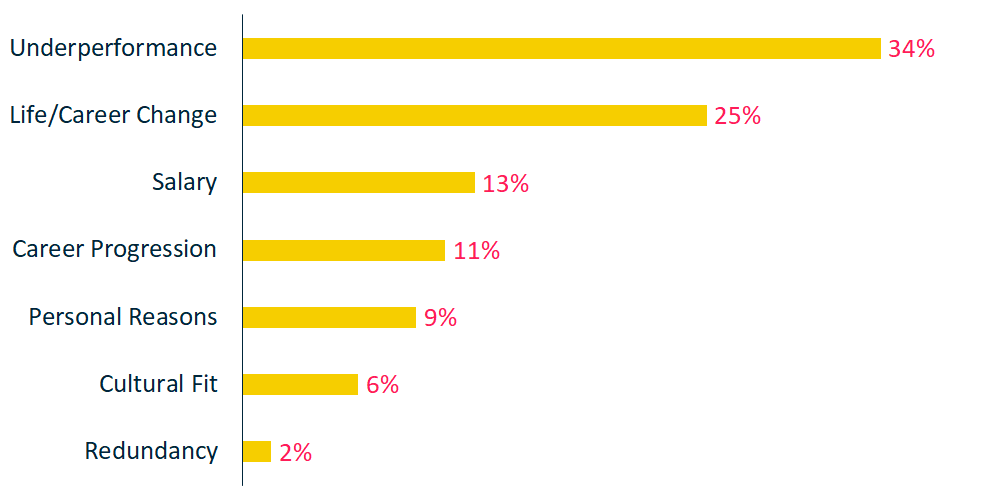 ---
Learning & Development

As people are one of a company's biggest assets, we were interested to find out what formal training programmes the Microsoft Partners had in place to nurture and develop staff. Investment in training and development programs can yield long term benefits by filling voids where there are skill shortages, and fostering the next generation of leaders for a company.
"Our apprenticeship scheme started 13 years ago. Have really seen the benefits of this, with people flourishing."
Formal training schemes offered by most


We found that over half of the companies surveyed employ a formal graduate or apprenticeship scheme, however it was surprising to learn that 21% had no formal training program at all. Many instead opting to utilise personal develop plans or informal ad-hoc training.


Formal Training Schemes Offered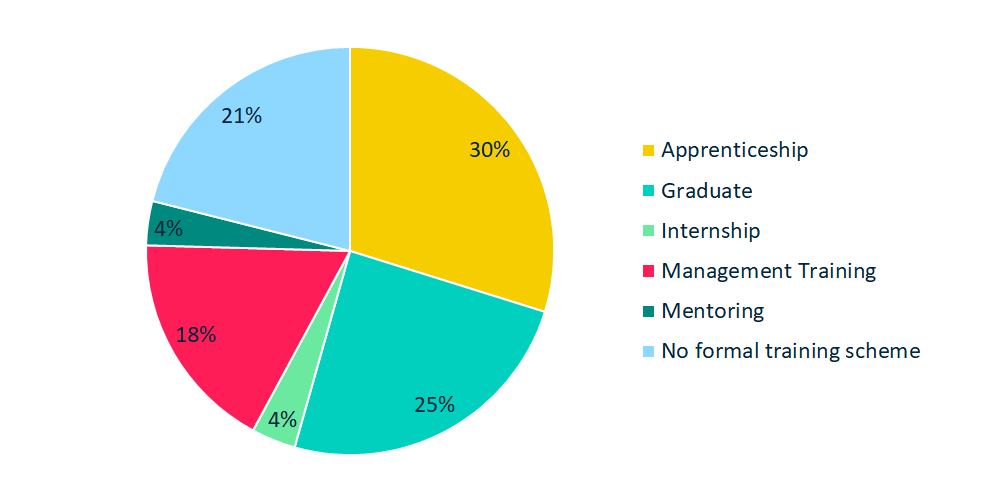 Time out for Grad schemes
As with all other facets of business, Learning and Development (L&D) was also impacted by the global pandemic. Several leaders told us that the remote working aspect had made previously established programmes almost unsupportable.
"We do graduate schemes and apprenticeships, but it has been put on hold. It's too hard trying to develop young, very junior people not being face to face, so have stopped for now."
"This year we haven't had apprentices or grad scheme."
Another of the key areas to suffer was mentoring. Not being in the office or having the ability to sit in close proximity to colleagues meant that mentorship was extremely challenging to facilitate, which in turn has led to slower development of new staff in particular.
Increased demand for management / leadership training
There was general agreement amongst the respondents that more could and should be done when it came to leadership training. Only 18% of the companies surveyed employed a formal management training programme. It was also interesting to note that of those same companies, several told us that they felt that these programmes needed to be improved.
"We do lots with leadership team but need more with the next layer down. We plan to do this in 2021."
"We offer management training, but interestingly, no one really takes it up."
Only two of the Microsoft Partners we interviewed reported using a performance or executive coach. This is a growth area in Learning and Development and is being more widely adopted across larger businesses, as a way to improve both overall team and individual performance.
"We have a coach who is an expert in human performance, she worked in sport and in business, helps us understand the performance and psychology."
Remote working made on-boarding difficult
Easily the most discussed topic within the L&D section was onboarding of new staff. The majority of the group felt with was one of the most problematic issues during the last year.
How do you integrate a new member of staff and develop them when they can't physically work with the rest of their team, they can't shadow anyone, they can't even meet socially?
"The big thing is new starters. We are finding it really hard to onboard and integrate new starters virtually."
"Our team is set to grow considerably this year - on-boarding, training, successfully working with a new team is not as straight forward when we are all working remotely."
Technical staff got up to speed fastest
Exploring onboarding further, after looking at the underlying data technical staff show the shortest time to become productive as a new starter, with just over three quarters (76%) of CEO's reporting that this happens in the first three months. In general technical staff can be utilised in billable projects or support roles within days or weeks. This contrasts to only 30% of new sales staff reported to be productive within three months. Typically, Microsoft Partners report that sales staff take longer to build pipeline, understand the business and bring deals to close. This makes it harder for Partners to fully understand if the sales hires are performing or not.


Time For New Starters To Become Productive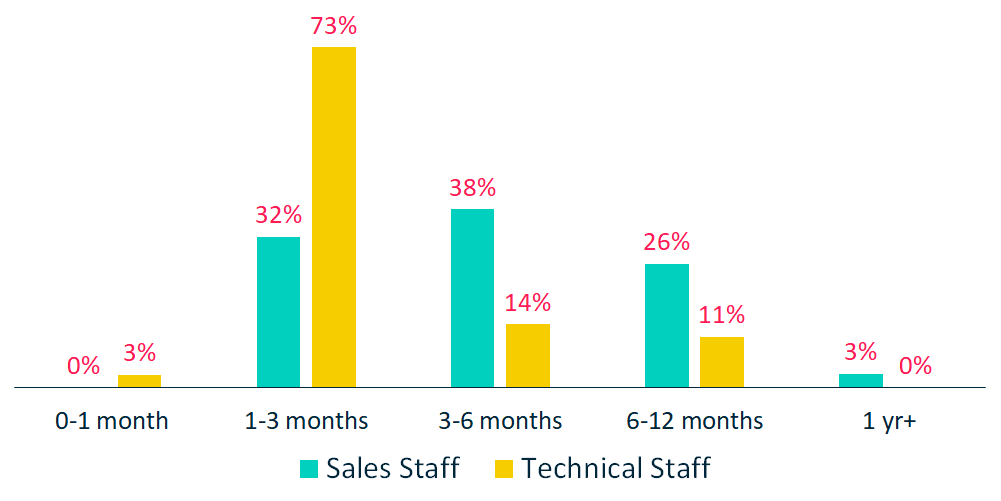 This is the fifth chapter of our 10 part blog series, for more chapters visit Microsoft Partners Insights