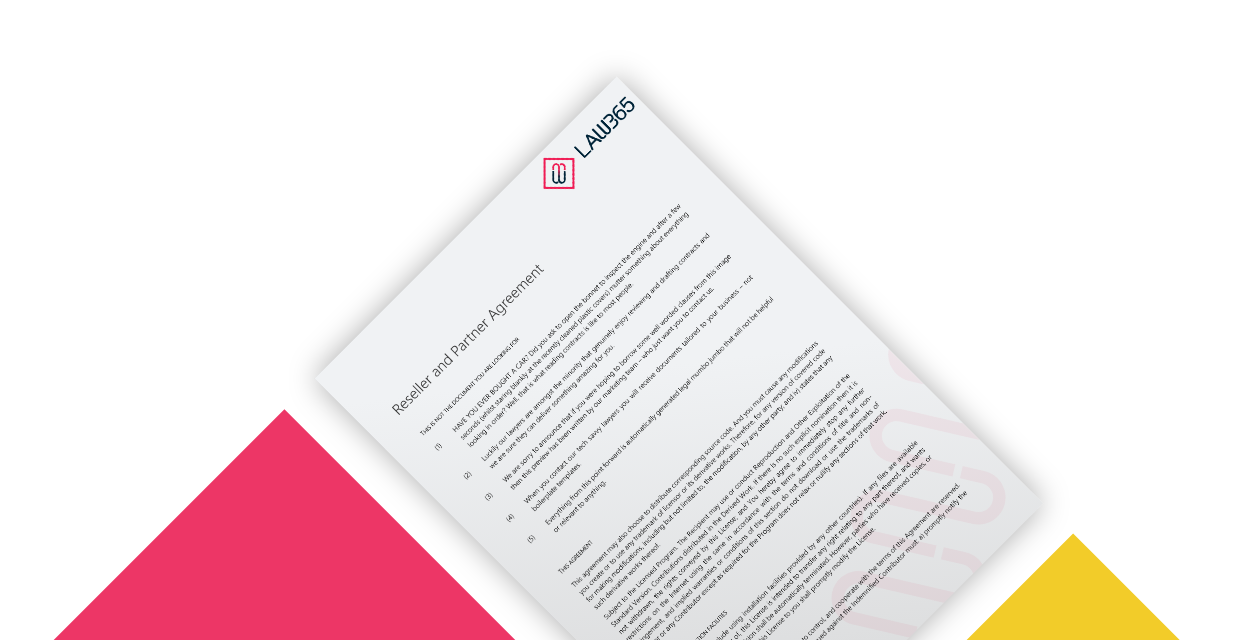 Why do you need a
?
Looking to get your SaaS product onto the market and into the hands of end-users? Looking to split or offload the burden of selling so you can focus on development and maintenance? Like Microsoft's relationship with its partners, you need a Reseller Agreement. And for a good reseller relationship, you need a good contract underpinning it with a Partner Agreement.
What is a
?
The Reseller and Partner Agreement sets out the terms by which a party may sell your SaaS (Software as a Service) product, including licencing, fees and liability. Got an End User License Agreement (EULA) already? Do you offer warranties to the end-user? This agreement can neatly flow down your terms and conditions by ensuring a smooth supplier/reseller/end-user relationship.
Frequently Asked Questions
A: A contractual agreement between both the supplier and the reseller has benefits for both parties. The supplier is guaranteed their product will be in reliable hands and the reseller is granted a licence to sell.
A: This all comes down to where the product is stored. A reseller never stores a product, where as a distributer does. With most IT companies now working from the Cloud and creating SaaS (or similar) applications, they (as the supplier) retain the product on their servers, and a reseller sells it on to end-users. For this reason distributor agreements are not as common in the IT industry.
This is a "Forever Template"
We will continually update this template with the frequent Microsoft updates such as CSP and other flow down terms, plus we will update the relevant terms to ensure you can claim as many rebates as possible, and get recognised by Microsoft such as CPoR, (Claims Partner of Record) DPoR (Digital Partner of Record), and PAL (Partner Admin Link).
We will also continually update this template as the law changes, for example, GDPR (General Data Protection Regulation) and the effects of Brexit on our laws, as we untangle ourselves from the European Union.
Used by
Managed Services Providers
ISV, Software, Apps and IP
System Integrators Professional Services Consultancy Partners
Hosting Partners
Licensing Partners
Contact us