This is the third chapter of our 10 part blog series, for more chapters please visit Microsoft Partners Insights.
The nitty gritty of Human Resources
In this blog we focus on arguably a company's greatest asset… its people.
---
Headcount and composition
The group interviewed for the research consisted of a good mix companies by headcount size, the most common being 26-50 employees.
The largest companies with 100+ employees accounted for 14% of the participants and these tended to be the Microsoft Partners that were PE backed. The average headcount was an impressive 66 employees, however the median was 33.
Total Company Headcount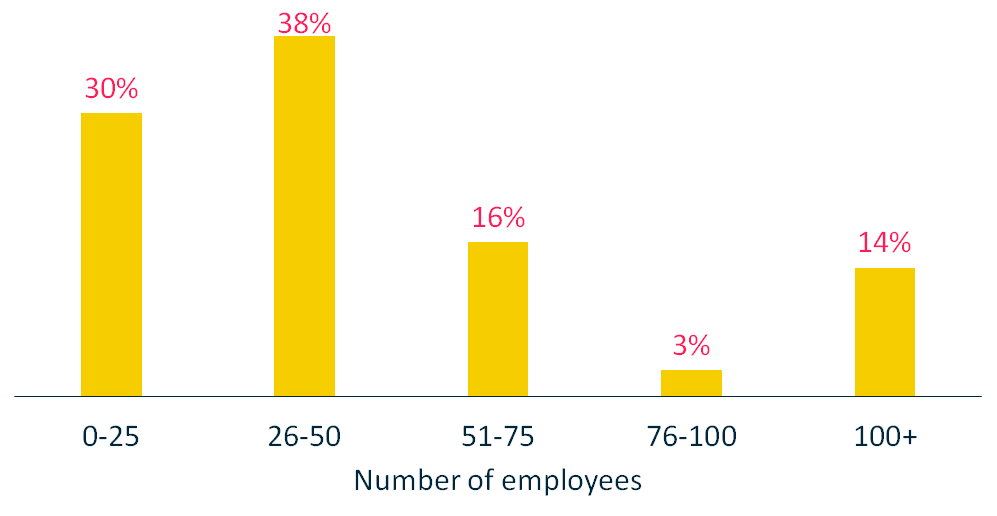 It will come as no surprise to learn that across the surveyed companies 87% of staff were permanent full-time employees, with part-time staff and contractors accounting for 13%.


Headcount by employment type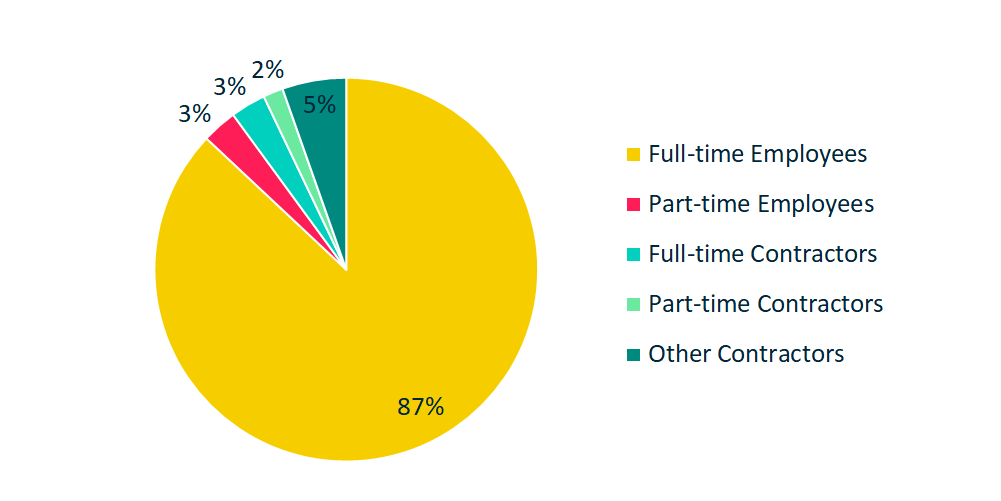 When analysing the split of headcount by business function, just over one-third were part of annuity service delivery teams (e.g. manged services/support function). This number reflects the fact that almost half (46%) of the companies that participated were Managed Service Providers (MSP). A further 26% of employees were part of project delivery, again tying in with the second most prevalent company type in our survey, System Integrators (SI)/Professional Services Consultancies.

Headcount by department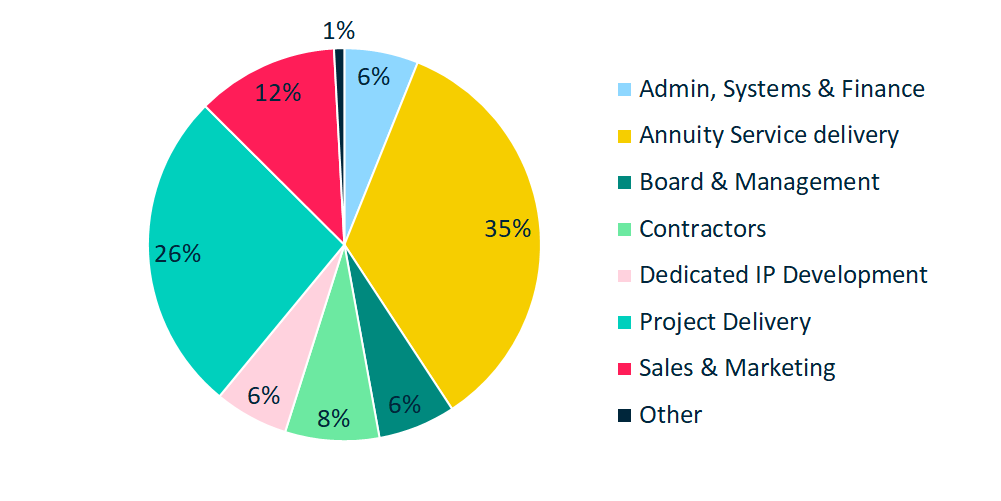 Microsoft Partners have built resilience and are striving for higher margins – which is demonstrated with over one third of staff engaged in annuity service delivery. Typically the gross margin from annuity services is approximately 60% to 65%, which not only helps overall profitability, but also annuity services generally incur reduced sales costs as the customers renew contracts for multiple years, thus providing resiliency and certainty of income for the partner.


---
Microsoft Partners embrace IP
An interesting point to note is that many Microsoft Partners are now investing in intellectual property (IP) development, with headcount showing at 6% of total workforce now.
This has increased from prior years where very few partners were active in this space. By building their own IP, this has at least three benefits for Microsoft Partners.
Allows

Microsoft

Partners to differentiate in the market.

It creates more 'stickiness' for them with their customers as they are 'tied in' to a solution.

It allows them to generate higher margins, as typical own IP gross margins are around 70%.
---
Board Composition
As can be seen from the headcount by department pie chart above, 'Board and Management' account for 6% of total headcount. In the smaller Partners, the board represents a higher percentage of the workforce and as the Partners increase in size, the board as a total of headcount decreases to less than 2%.
Non-exec board members were popular in Microsoft Partners with an average across the group of 1.2. The smaller Partners typically had one external board advisor, whereas the larger, or PE (Private Equity) backed Microsoft Partners had two non-exec directors to help with governance and external oversight.

Average board composition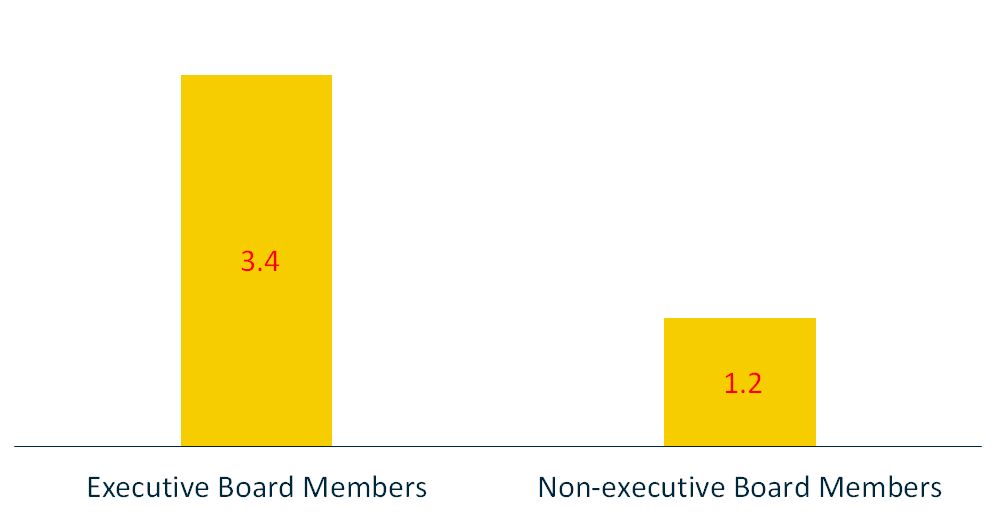 ---
Employee age
The average employee age for the participating companies was 37 years old, which is representative of a relatively young workforce. The national average age for UK tech workers is 38 years old, however for non-tech workers the average age jumps to 43. It is estimated that 50 year old plus workers will become the biggest working population in the next 5-10 years.
Employee average age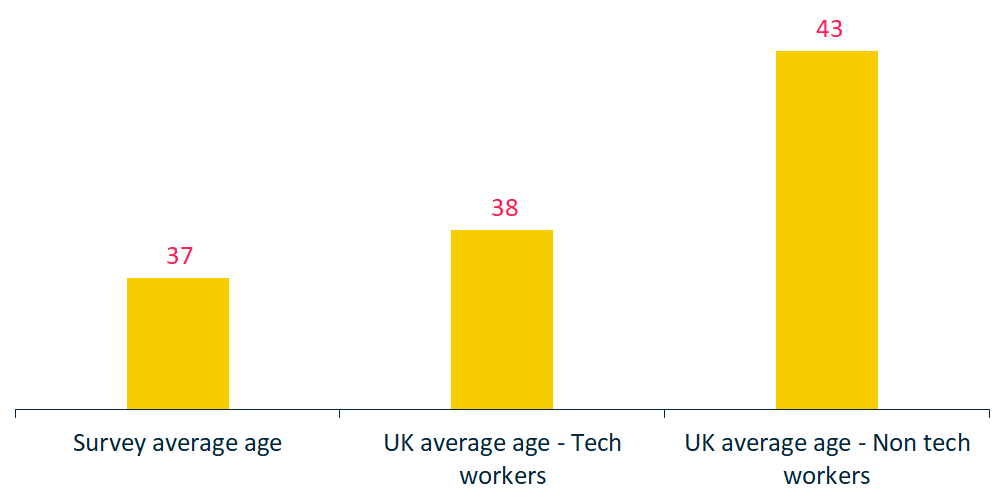 ---
Management structure
We asked senior leaders about the span of control of the managers within their respective companies. We found that on average each manager had just over 5 employees reporting in to him/her. The maximum number of direct reports for a single manager was 10, however several respondents told us they intentionally run a very flat structure keeping managerial reports to a minimum.
"We have a flat structure. There is no management. We have mentors, but no management"
---
Staff retention
Most firms showed strong staff retention, with the average staff tenure being just over 4 years.

There was marginally stronger staff retention in technical roles, with just over half of the companies (58%) showing that 80-100% of technical staff are still employed after 18 months.

This was almost in line with sales staff retention, with 56% of companies reporting that 80-100% of sales people would still be at the firm in the same period.

The figures above represent that sales people are often let go if they are not hitting targets, although typically it takes a year to realise that a sales person has not made the grade. Additionally, sales people are often lured away by the incentive of a sign-on bonus, which can be attractive if the prospects for hitting targets are not good at their current employer.

Technical and consulting staff tend to be more risk adverse and, as long as they are looked after will be less likely to leave, which provides a stable workforce for most Microsoft Partners.
Average % of staff still employed after 18 months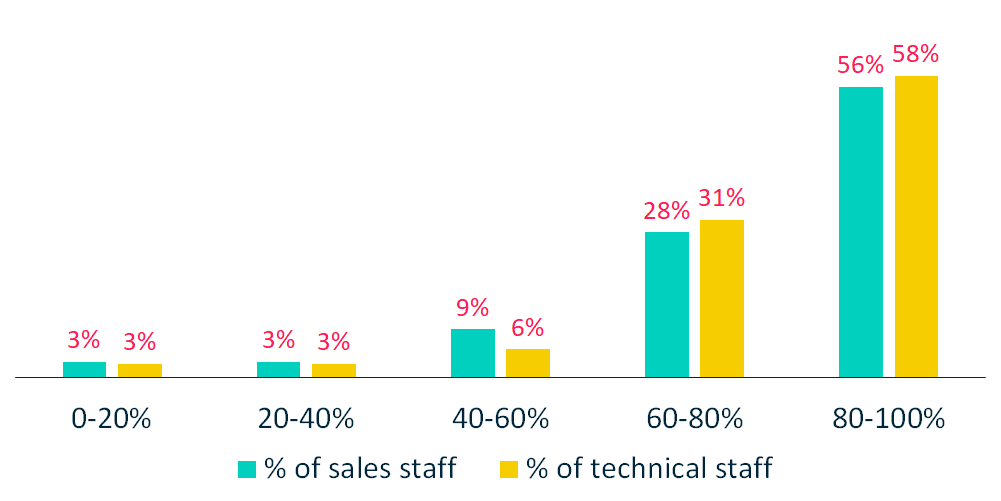 This is the third chapter of our 10 part blog series, Microsoft Partners Insights.
Read Chapter 4. People & Culture (Part 2)