This is the eighth instalment in this year's Microsoft Partner Insights, our annual research into Microsoft Partners.
Growing your business is always front of mind for every Microsoft Partner CEO. But while revenue tends to be the big day-to-day attention grabber for many, understanding your profit margins is a key step in building a successful Microsoft Partner business. 
Profitability matters 
The 2021 report produced by American cybersecurity and data backup company, Datto ('Global State of the MSP' Datto's Global State of the MSP Report - 2021surveyed more than 1,800 managed service providers (MSPs) and found that the biggest challenge that MSPs faced coming out of the pandemic was increased competition. This was the first time 'competition' had topped the list, and with Microsoft reporting that they are adding 7,500 new businesses to the Microsoft Partner Network globally every month, it's not hard to see why.
Also high on the list of things that were keeping MSP's up at night, in third place, was 'profitability'.
So how can Microsoft Partners differentiate themselves from the competition and increase profitability?
The answer… Intellectual Property (IP)!
Intellectual property… the key to higher margins 
Profitability and growth don't solely have come from competing on labour costs and materials, increasing productivity or access to capital.
More often than not, a Microsoft Partner's competitive edge depends on their capacity to innovate, especially in the area of high margin services and products. And this is where IP comes in.
Taking the time to understand the client pain points of a particular market segment or industry and then building IP into your offering enables you to generate the highest margins for your business. 
Microsoft themselves have been promoting the benefits of developing IP for some time and encouraging Microsoft Partners to do more. In 2020 they sponsored an e-book by the market intelligence firm IDC (the premier global market intelligence firm) highlighted the value that could be unlocked by investing in this area:
…there is no better way for partners to win business and build revenue than to lead with their own intellectual property (IP).In the IDC survey, Microsoft Partners expected average growth of 23% in resale revenue and 27% in IP revenue over the next two years.

Hitting those high growth percentages with IP, however, takes investment. To gain the technology and skills required, 39% of Microsoft Partners invest at least 6% of their revenue in developing their own IP, while 29% spend more than 10% on IP.

Source: Unlocking the opportunities of digital transformation - Microsoft Partner Network
Climbing the IP Staircase to add value
A great starting point for the journey of unlocking value via IP is understanding the 'IP Staircase'.
This is in essence a roadmap for evolving from simply re-selling Microsoft products to developing and packaging your own bundled solutions that have your IP embedded within them. 
The IP Staircase Model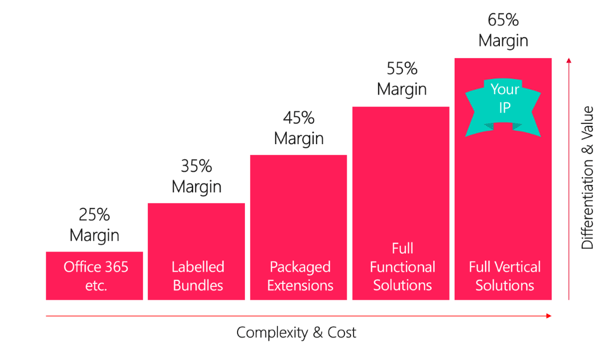 You climb the staircase by offering targeted and bundled packaged solutions that meet, and resolve, the specific pain points of your clients.
As you move up the levels, the cost and complexity of developing the packages increases, but more importantly the value you create and the differentiation in your offering versus your competitors also increases. 
This ultimately leads you to the top of the staircase where you are providing complete vertical solutions that incorporate your IP and provide your unique and innovative solutions for specific market segments and industries. 
Level 1: Re-selling
The first step on the staircase is the most basic and simply involves Partners re-selling Microsoft products and services to their end-customer.
This is the entry point on the staircase for many Microsoft Partners. 
Level 2: Labelled Bundles
A significant number of Microsoft Partners find themselves organically migrating to the labelled bundle stage over time.
This is where you start to think about the core products and services you can sell to your clients and try to create packages that will meet a particular need for them. This could be something as simple as bundling together M365 E5/Business Premium with a defined set of tasks (call it a framework/methodology) to deploy the solution to be a 'Secure, Productive Desktop' that you could also support for a set monthly fee.
However, it is important to note that Microsoft Partners at this stage aren't dedicating significant time and resources to fully integrate the individual components. They are just taking the complexity out of all the options the buyer has and packaging it in a user-friendly way. 
Level 3: Packaged Extensions
A key step in the process occurs when you add a custom element to your solution that is unique.  Most Microsoft Partners get to this step when they write custom code for applications like SharePoint, Teams or Dynamics.  The custom element normally 'extends' the functionality of the core Microsoft solution. Examples can vary from intranet type components for SharePoint, or extensions for Dynamics to integrate with a warehouse picking tool.
Many Microsoft Partners develop these for customers and once they have a component, or several, they can market them as solution add-ons, that help differentiate their offering.
Level 4: Full Functional Solutions
Full solutions are the next step, and these are typically based upon an underlying Microsoft technology such as SharePoint – as is the case for many 'out-of-the-box' intranet solutions. However, these include many add-on components as well as configuration to deliver a complete solution. Microsoft Partners not only make money from the sale of the IP licence, but also from deployment services and ongoing support/maintenance of the solution.
Dynamics is also a great platform to build functional solutions on as so many 'niche' requirements exist. Membership organisations, for example, often require specific functionality that is repeatable to a range of customers.
Level 5: Full Vertical Solutions
Congratulations, by providing full vertical solutions you have reached the top of the staircase. You've levelled up!
At this stage Microsoft Partners are providing highly specialised, industry-specific solutions that solve key pain points for their chosen target customer base. They are providing the most value to clients. While they are likely to be incurring the most cost and facing the highest level of complexity in developing these solutions, they are also being compensated with the biggest margins, often at 65% or more.
In many ways, Microsoft Partners can 'get away with' taking an existing horizontal solution and adding key vertical/industry specific language and content to make it appeal to different industries.  This is especially true for productivity and collaboration solutions, which almost every business needs.
IP Symbiosis
The benefits of developing your own IP don't end there. Embedding IP as a key part of your overall strategy can also create a symbiotic relationship with the more traditional parts of a Microsoft Partner business, namely the professional services and managed services business lines. 
The diagram below shows how IP generates tangible benefits for Managed Services, which in turn provides real value for professional services, and vice versa. 
Let's look at some common examples: 
IP & Professional Services relationship
IP is often generated from within individual client projects delivered by Microsoft Partners. A solution – e.g. a snippet of code or widget built for one client – that could be used again and again by embedding it within your own product.
In addition, project and consultancy fees provide essential funds to develop IP further. Another benefit is that when a client buys your IP-based product from you it's highly likely they'll require your professional services team to assist with its implementation. 
Managed Services & IP relationship
What happens when a client buys your IP-based product? Quite often they will need to buy some support for it, this is where your MSP business comes in. Your IP offering has automatically generated managed service leads.
Professional Services & Managed Services relationship
As can be seen above, when considering the value of climbing the IP Staircase, you should consider the revenue that you can generate from IP sales and how these IP sales can generate more revenue for the other parts of your business.
Another perk is that you'll have more 'sticky' customers. If a customer buys multiple service lines or products from you, then they are more likely to have a longer, more strategic relationship with you, which minimises customer churn. This also reduces the reliance on sales and marketing to keep winning new customers. 
Microsoft Partner feedback
During this year's Microsoft Partner Insights research we asked our group of senior leaders from some of the UK's most successful SME Microsoft Partners to give us their thoughts on developing IP.
How important was it to them, and where are they on the staircase?
The feedback was very enlightening. Direct quotes have been used where possible. 
The cohort was effectively split in to three camps when we discussed the importance of IP to their business: 
It's core to our business, or we aspire for it to be core. 
It's important and something we are pursuing. 
It's not a significant part of how we operate. 
"It's core to our business, or we aspire for it to be core"
Many of the CEOs in the group were quick to point out that IP is their number one priority at the moment. The majority were already developing their own software or focused on productising as much as possible. 
This is us all over, we are all about IP. We have packaged IP and services products. We always look to productise.
We are an IP business, everything we sell is our own product. We are a product-first business, and then it's about how we cookie cutter our products into market.
For us, we have a big focus on developing a service catalogue. There is some consultancy stuff, which is all outcomes-based work and repeatable, through to larger industry aligned accelerators. It's not cookie cutter but maybe 60% fixed. We will build a core product but tweak according to customer need.
It is what we do – we have our own software which we developed initially for one client and then developed it from there. We now have over 100 customers.
We own the IP for all the work we do; all the code, templates, we reuse all of it. We are also building products.
We tend to productise pretty much everything we do as we are about building our own brand rather than Microsoft. It is us. We register all our brands as trademarks. It is part and parcel of what we do. We have our own product catalogue.
IP is key to what we are. Managing transformation and innovation process.
IP is now our primary focus. Everything else I just about keeping the lights on. While we develop this.
IP as part of the client journey is really important. Our buyers are more sophisticated than ever. They want consultants with experience and a toolkit. You may have 3 or 4 consultants on your project, but the IP has 15 years' experience baked in.
We significantly invest on IP – mainly script and code.
The quotes above demonstrate the commitment from these Microsoft Partners to using IP to drive their business strategy and growth.  However, these Microsoft Partners are not the majority. 
"It's important and something we are pursuing"
The largest group were the Partners who had not committed the same time and resources as the first group but were acutely aware of how important it could be and were looking to invest more into their IP offering going forward.
Strategically we want to look at it more – it is currently intentionally opportunistic; in the future we anticipate having a head of innovation.
Being a services company first, IP is something we want to pursue. We do develop applications and software. Developing IP is important for us, but it is still a small part of the business.
This has always been on our mind, and we have wanted to increase IP revenue.
We have a product we do sell which we started developing 3 years ago. It gives us a differentiator, however we aren't set up as a software company and it isn't currently core to what we do. We are a consultancy-led business. We haven't been very good at taking our software products to market.
We have a piece of IP which we are going hell for leather on marketing. My mission is to convert.
The old money which came from legacy recurring revenue to new subscription on IP offers.
We've started to do something on this. We've developed a productization process to help us architect, implement, sell, market and support in a standard way. More of the internal focus is on how we can standardise the way we do things.
We are trying to be become more product led. We build contracts up by putting many products together and laying a little personalisation on top.
We on the IP journey but nowhere near where we want to be.
Starting this year, we have a target for number of productised products to offer to clients. We will define and sell these. We see it has important as a way of being able to offer low-cost offers to new clients, but also to keep existing client solutions up to scratch.
We don't really have any IP right now. It is a desire to try and bring into the business in the 3-year plan.
Two things we are productising – both around consulting services. One is cloud and how a customer optimises their clouds usage. The second is around cybersecurity and is a solution we have written ourselves.
The above quotes are typical from Microsoft Partners, who understand how IP can help their business, although also know that it's not that simple to quickly create IP.
Creating basic bundles of licences and services can be accomplished relatively simply without too much business disruption.
However, building full products requires dedicated resources, not only to create the IP, although also to market and to sell the IP.
It is generally a multi-year commitment to develop IP and return good profitability from it.
It also requires a change of mindset and potentially different resources – often those people who are great at delivering customer projects, or support, do not understand product management and find it very difficult to bring IP to market. 
It's not a significant part of how we operate. 
For the remaining Microsoft Partners interviewed, IP isn't on the horizon.
IP development wasn't a major focus as they felt it either didn't fit or wasn't going to add value to their business. 
It's not really much of a thing for us. Most companies are not as blinkered as we are on our target market. We sit within our parameters. We will not go beyond our customer profile of a max number of seats, as it won't work for the products we have. All our managed services are tailored one to many.
We have a managed infrastructure business. Our only IP is around making how we work automated and frictionless. It isn't really something we have in our business.
Summary – How does IP add value? 
Smart Microsoft Partners are investing in IP and starting to climb the IP Staircase so they can:
Differentiate their business  
Realise higher margins 
Develop more sticky client relationships 
Diversify their revenue streams 
IP is a natural evolution for many Microsoft Partners and customers are looking for IP to speed up deployment of technology, reduce risk in the deployment, or to provide specific functionality for their business.