This is the seventh instalment in this year's Microsoft Partner Insights, our annual research into Microsoft Partners.
We've all read the headlines about the 'War for Talent' and 'The Great Resignation'. But how have these impacted Microsoft Partners with regard to employee salaries? We sat down with the CEOs of some of the UK's top SME Microsoft Partners to discuss their experiences over last year, and one theme that came back loud and clear was 'wage inflation'.
Where possible direct quotes from senior leaders have been used:
"The issue we see is the demand for IT resource and the resultant salary inflation. Many people two years ago wouldn't ever be worth the salaries being offered today. I am seeing this all the time. People who have only been in IT for 2 years, being offered £40k in London."
"The demand for higher wages has tended to be at the entry level, i.e. low £20k salaries can go to low £30k by moving in-house in IT roles. In senior roles we are seeing 50%+ increase on salary."
"A 15% increase is what we are paying across the board, in pretty much all roles."
"The cloud market has been tough for 5-6 years, and it is getting worse."
As we discussed previously in this Microsoft Insights research, Recruitment, the last few years have clearly highlighted a scarcity of talent to fill the open roles that UK Microsoft Partners need to fill. The numbers speak for themselves and are staggering.
The UK job surplus stands at approximately 1.3m people (according to the Office for National Statistics - Vacancies and jobs in the UK), and as demand for tech services reaches an all-time high, the UK alone saw 870,000 technology and digital job vacancies open in the first 5 months of 2022 (Adzuna) In fact tech roles now make up 14% of all job opportunities in the UK, compared to 11% in 2019.
It was therefore inevitable that employers would have to start offering higher salaries when faced with such a shortage of talent and fierce competition in the market.
"I feel that we have had a lot of wage inflation for the last 3-4 years. It's down to scarcity of talent."
"We have seen significant wage inflation. This is a high inflation point. There has been a skills shortage for years, so we have always paid through the nose. Some of the salaries seem ridiculous. We have seen people with 12 month's experience earning £40k."
"The demand for higher salaries is there for really good people."
"We're definitely feeling wage inflation with new hires. It has not hit us hugely but we are finding there is a scarcity of people."
Competition was particularly stiff in London as U.S. tech giants swallow up some of the top talent, significantly contributing to wage inflation in the capitol and making salaries unaffordable for some companies in sought-after roles such as developers.
Firms such as Google, Amazon, Facebook, Apple and even Microsoft have been increasing their footprint in recent years making it even harder for smaller tech companies and start-ups to recruit during this time.
Which roles benefitted from the biggest salary hikes?
It was also interesting to hear which roles the CEO's felt were the beneficiaries of the biggest the salary hikes:
"Wage inflation is really impacting us. We are probably looking at around a double increase to what it previously was. The market for tech is very hot right now. Especially in front-end developers."
"Across professional services the tech solutions engineers have seen increases of £5-15k. There is such a scarcity of supply."
"We develop products in Microsoft Power Platform. It is this tech platform that is severely on the rise, so therefore people are in demand."
"The biggest thing we have seen is the salary increase in top end analytics space. A 25% increase in these types of roles."
"Developers salaries have gone up 30%-40% in last year – we can't pass that on to customers."
The recruitment firm Robert Walters published research this year (Robert Walters - Salary and Recruitment Guide 2022) that showed salaries for new starters in professional services industries have grown by 6% to 8%, however, "those who moved into 'hero' industries such as technology or healthcare saw pay hikes as high as 15% to 20%".
We were interested to learn more about where current compensation was with respect to different technical and non-technical roles for the Microsoft Partners firms in our cohort. We asked each CEO to provide us with anonymised high/low compensation ranges for different roles in their organisation.


Compensation - sales staff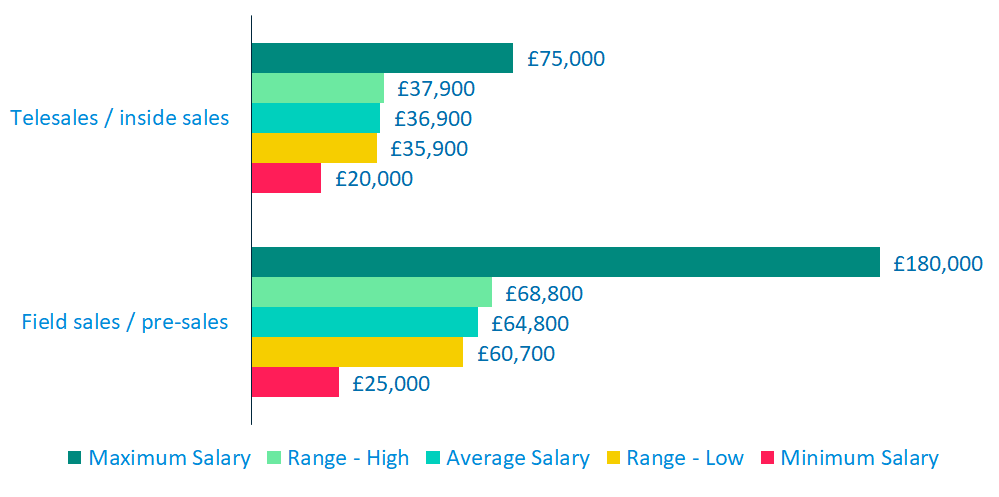 Although many Microsoft Partners generate new business through referrals, having a top sales team is often the key to hitting revenue targets, and as such these roles command a premium in the recruitment market. As we can see above, the average compensation for field sales staff was £64,800, with the average low range at £60,700 and the average of the high range £68,800.

It's worth noting that variable compensation/bonuses can also make up a sizable portion of the total compensation package for sales staff. We asked the senior leaders to give us some insight on what percentage of total compensation was tied to variable pay.

The feedback showed that there was an even distribution across what percentage of compensation was paid as part of bonus schemes to sales employees, with the most organisations paying between 21-40% or 41-60% in bonuses.
What % of total compensation is related variable pay?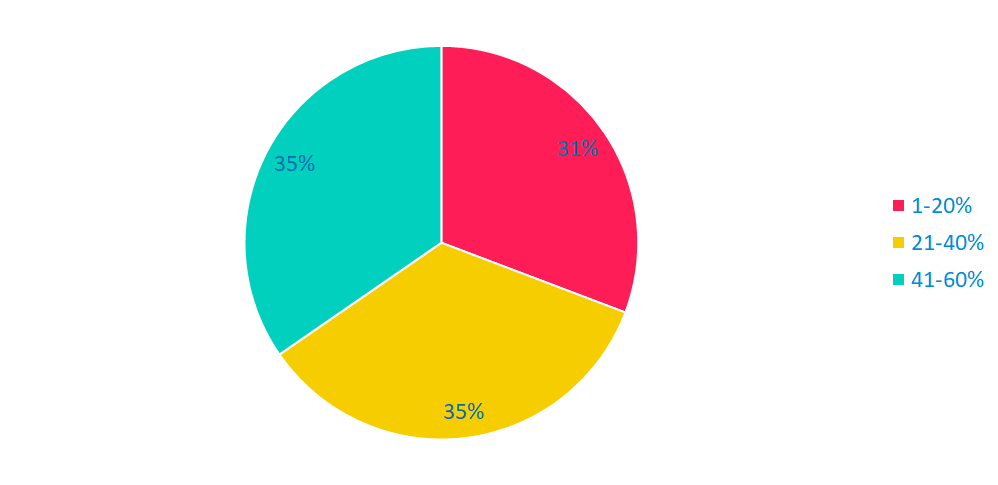 We also wanted to know what were these bonus schemes based were based on. The survey showed that almost half (47%) of all respondents said that variable compensation was tied to gross profit targets, with 37% linking it to revenue. Only 5% or organisation who participated said it was part of a profit share.
What is variable compensation based on?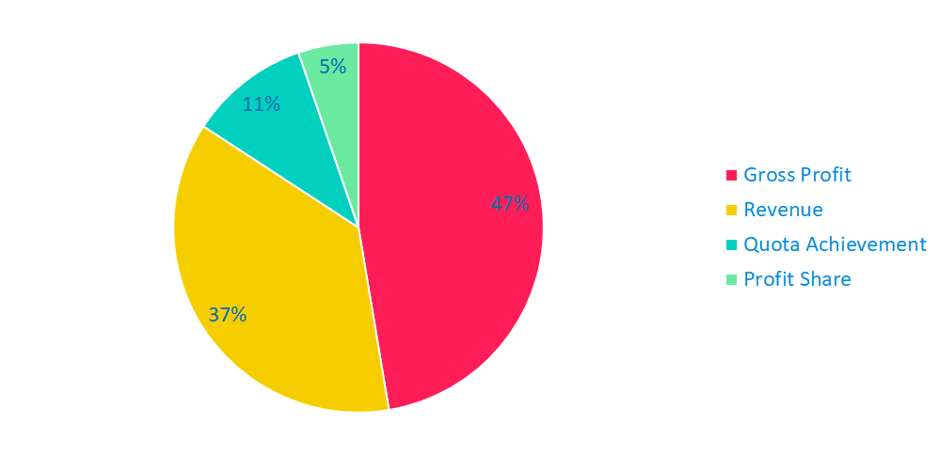 Digital marketing roles have also seen a jump in salary since the pandemic, within many companies having to invest heavily to take their marketing strategies completely online. Our survey showed that the average compensation for general marketing staff was £35,900, with marketing leadership roles paying £60,300 on average. The highest single salary in the survey for a leadership role in marketing was £120,000, a 99% increase over the average.
Compensation – Marketing Staff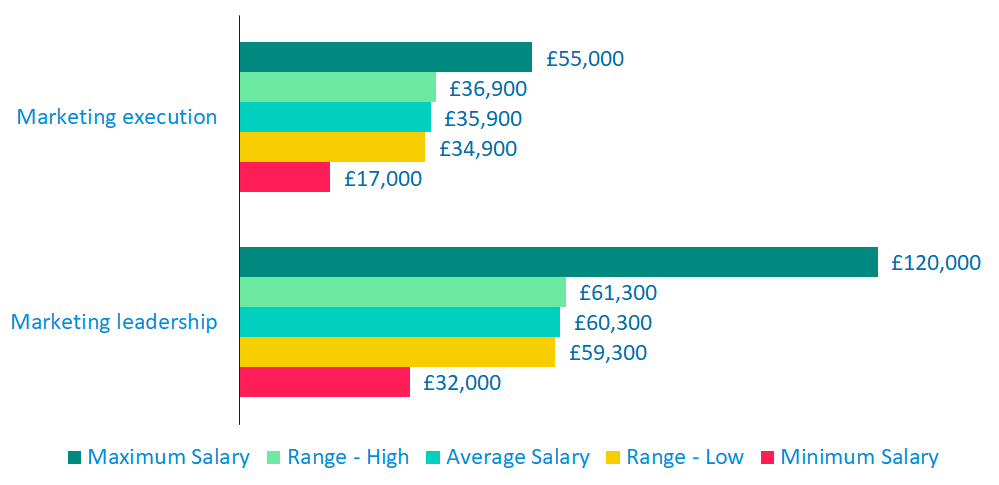 Where survey respondents had really been feeling the pinch was within technical roles such as front-end developers. The survey results showed that high/low compensation ranges for both senior and lead consultants were relatively narrow and separated only by a few thousand pounds. The average compensation for a lead consultant was £69,400 and the maximum in our survey was £130,000.
Compensation – Consultants & Engineers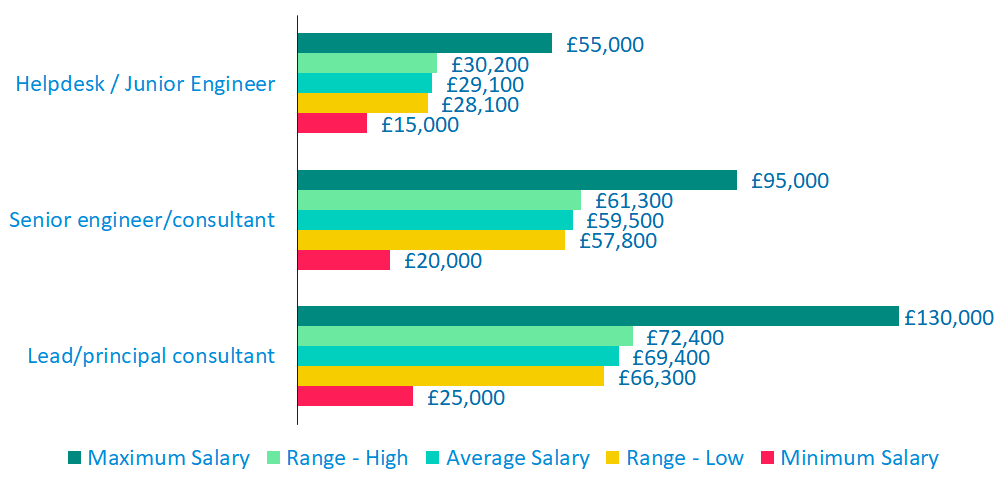 The higher salaries attached to the more senior technical roles in our survey reflect the steep learning curve associated with them, and the fact that Microsoft Partners need new developers that can hit the ground running and have an immediate impact when joining the firm.
Does wage inflation call for existing staff pay reviews?
With salaries increasing above the standard market value for the most in-demand roles it often meant that new staff were joining on higher pay than existing staff. Bringing these two sets of salaries into line was obviously something that needed to be addressed to maintain harmony within many companies. Although guidance for employees at the start of the year from Andrew Bailey, Governor of the Bank of England, was to not ask for salary increases as this was contributing to inflation, it did not stop many Microsoft Partners from internally reviewing the situation.
"Wage inflation has impacted us massively. A significant percentage of our workforce have had a pay review."
"We had to tweak some salaries. Most of the people we lost were techies. We partially took our eye of the global levelling up which was happening."
"Some people are very aware that there is a salary spike. I do think it is a spike, and for example, when the need has gone, so will that money. We have responded and given people more money. We put salaries up by 7% on average, but in a very targeted way."
"We have seen more people asking for salary raises. There has definitely been a higher level of requests. Much of it personal around cost of living."
It was clear that salaries are increasing for new hires in addition to existing staff, but are Microsoft Partners able to absorb this? For some the CEO's in our group the response was a clear 'no', but for many there was acceptance that some, but not all of this cost, could be passed on the customers.
"It's very hard to pass on this cost to customers. For some clients we have inflation clauses."
"One employee came in and said they had been offered £12k more a year elsewhere, and we ended up paying him £4k. We see it as a win but it's not ideal. We are being held hostage. We will have to pass the cost on to the customers."
"Engineers usually on £40k are now coming in at £55k. You can pass some of this on to clients, but you can't pass all of that cost on."
"We are in the middle of working out how to pass on our 15% cost increase to existing customers. It has annoyed them. We are going to enforce that 15% increase with all new clients."
"We have managed to increase our rate card. We haven't seen how clients feel about this. It won't cover all of the additional cost of wage inflation."
"We have put a price increase in on all professionals services day rates. However with most of our customers, we can mitigate some of those increases by looking for internal efficiencies."
"We are passing on some of the cost to customers. It is hard with long-term managed services contracts where typically we work on 3-year contracts."
Is wage inflation here to stay?
Looking ahead it seems that the issue of wage inflation for Microsoft Partners could be here to stay for the foreseeable future, "the average tech salary is up to 50% higher than the average for all vacancies in the UK, and is increasing, whilst the average salary for all jobs in the UK has decreased in 2021" (Tech Nation www.technation.io). This gap is forecast to widen, highlighting the continued premium that businesses are placing on tech roles.
Further Reading
This is the seventh chapter of our 10 part blog series, Microsoft Partners Insights.

Read chapter 1 - Benchmarking Research, for an introduction into Law 365's Microsoft Partner Insights 2022, key themes involved in the research,

Chapter 2 - Financial review for insights into the Financial information of the UK's top SME Microsoft Partners,

Chapter 3 - recruitment,

Chapter 4 - Employee retention and attrition.

Chapter 5 - Diversity & Inclusion

or Chapter 6 - People and the return to the office.